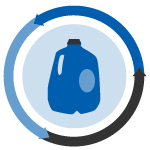 A type of caterpillar eats and breaks down polyethylene, and Tanzania asks new plastic product manufacturers to build recycling facilities.
Ag scrap solution: A Midwest plastics recycling company is gearing up to offer ag plastics collection in Indiana. The Shelbyville News reports that East-Terra Plastics, an Indianapolis-based company that received a $250,000 state grant this year to begin a statewide mobile ag plastics collection service, has begun visiting local governments to pitch the service.
Plastic-chomping critter: Scientists in Europe have discovered a caterpillar that enjoys eating polyethylene, but it does a lot more than just chew the plastic up. According to Phys.org, the wax worm, which is commonly bred for fishing bait, actually degrades the plastic by breaking up its polymer chains.
Producer responsibility: Manufacturers of new plastic products in Tanzania will be asked to build recycling facilities, as part of an ongoing effort to reduce plastic waste. The Tanzania Daily News reports the announcement was made last weekend by officers with the National Environment Management Council.