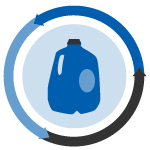 A major newspaper calls for the most-populous U.S. state to ban EPS packaging, and a study finds toxic flame retardants end up in children's toys made from recycled e-plastics.
Deposit debate: Maine legislators in March voted down a proposal to remove larger containers from the state's bottle deposit program, but the bottle bill debate isn't over. In an op-ed for the Bangor Daily News, the executive director of the Maine Beverage Association lays out the rationale for the proposal and takes the newspaper to task for opposing the legislation.
Call to eliminate EPS: The Los Angeles Times editorial board calls on state lawmakers to ban the use of expanded polystyrene. Citing the existence of local ordinances around the state as proof of support for such a ban, the editorial urges passage of Senate Bill 705, the Ocean Pollution Reduction Act of 2017, which would phase out polystyrene food containers in 2020 and would ban the use of any plastic that isn't locally recyclable or compostable starting in 2021.
Straw focus: Drinking straws have become the target of activists looking to curb ocean plastics pollution. National Geographic takes a look at the debate and notes that anti-straw activists are utilizing different tactics besides just regulatory pressure, tactics that include simply asking consumers to stop using of straws.
Bag claims: After the Sunday Times of South Africa reported that plastic bags marketed as "recyclable" can't actually be recycled in the country, South Africa's environmental affairs department launches an investigation based on the newspaper's findings. According to the newspaper, cheap fillers added to the bags are inhibiting their recycling.
Bag ban override: Pennsylvania lawmakers will consider a bill to prohibit local ordinances that ban or levy charges on plastic bags provided at the point of sale. The legislation was introduced this month and recommended for passage by the House of Representatives Consumer Affairs Committee.
Target's target: Five new sustainable packaging goals have been announced by retail giant Target. According to an announcement this week, the company plans to eliminate EPS from packaging for its own brands by 2022, add the How2Recycle label to those brand packages by 2022, create more demand for recycled materials through end-market development and more.
Toxics in plastics: A study showed that flame retardants used in electronics often end up in children's toys after the plastics are recycled, according to two organizations. Advocacy groups Ipen and Arnika performed the international study, which discovered that toxic substances ended up in Rubik's Cubes.