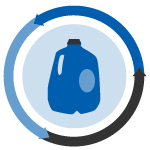 A Dow executive discusses end-market potential for recovered flexible films, and an article explores the challenges of recovering plastics from toys.
Multi-layer flexible packaging: An official with Dow Chemical Co. spoke with Packaging Digest about realistic options for end markets for recovered flexible films, noting that true closed loop recycling is unlikely but other markets could exist. Jeff Wooster, global sustainability director for Dow, talked about how compatibilizers can allow the recycling of simple multi-resin packaging into new films and but that's not the case for complex multi-layered flexible packaging.
PE packaging additive: An antioxidant additive from chemical company Addivant is now being used in LLDPE packaging on store shelves, the company announced in a press release. The Weston 705 nonylphenol-free stabilizer reduces the use of antioxidants by up to one-fifth, allowing for more flexibility in formulations and recycling, the company's chief technology officer said.
Challenges of toy recycling: Waste360 wrote about a toy-recycling project between TerraCycle, which specializes in recovering hard-to-recycle items, and brand owner Tom's of Maine. The variety of different toys and the inclusion of more electronic components means more extensive manual sorting and disassembly for TerraCycle. But a company official said that as long as manufacturers don't add too many different polymers in the future, TerraCycle will still be able to separate and recycle materials.
PTO plant: A plastics-to-oil facility has opened in Kenya, the first facility of its kind in Africa, according to Recycling International. Alternative Energy Systems' facility can process 16 metric tons of plastic per day, and the output consists mostly of oil with a smaller fraction of carbon black.