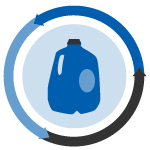 Clothing and shoe company Timberland talks about its plan to use plastic recovered from the streets of Haiti, and The Onion takes a satirical look at the ocean plastics problem.
Green gear: More details have come out about Timberland's plan to make products from recycled plastic bottles collected in the streets of Haiti. TriplePundit details the collaboration between Timberland and Pittsburgh-based Thread, touting not only the environmental impact but the economic benefit of employing informal collectors to obtain the recovered plastic.
Prohibiting plastic bags: City staff in Victoria, British Columbia have crafted a six-month roadmap toward the municipality banning single-use plastic bags from local stores. But, as the Times Colonist newspaper reports, some elected officials are ready for action now, as a plastic bag ban was first proposed a year and a half ago.
Foam satire: Ocean plastics are no laughing matter, but sometimes humor can point out a hard reality and make it hit home. The Onion satirical news site published a photo of a cup floating in the sea, with the headline, "Styrofoam Coffee Cup From Omaha Excited To Finally See Pacific Ocean."
Deposit exemption bill: Maine lawmakers rejected a bill exempting large beverage containers from the state's deposit program, according to the Fiddlehead Focus. Legislators have rejected similar beverage industry-backed proposals two others times in the last six years.