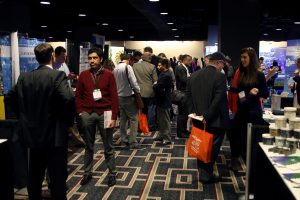 The Plastics Recycling 2017 conference in New Orleans drew roughly 1,700 attendees and was marked by vibrant education sessions and a packed trade show.
In its 12th year, the event brought together equipment companies, resin producers, reclaimers, converters, brand owners, exporters, brokers, trade association leaders and more. It was the highest attendance ever for the conference, which was held this year at the Hyatt Regency New Orleans.
Attendees came from 36 different countries.
"It's great to hear there are 1,700 people here," said Zach Freeze, a Wal-Mart sustainability executive who spoke during the conference's opening plenary session on March 7. "It represents the growth of this industry and where we're headed."
That industry optimism extended into the exhibit hall, which featured nearly 200 plastics recycling companies and organizations.
Burton Li, operations manager for Fukutomi Green Products, said the initial opening of the trade show hall kept his booth very busy. His Hong Kong-headquartered company came looking to buy scrap plastics from North American generators and brokers.
"I'm expecting today to be a very good day. I'm very excited," he said. "So far it's been very beneficial. We've met a lot of new people."
The conference allows Fukutomi to meet the plastics recycling industry in one place.
"You don't have to make the rounds around the country," Li said. "It makes it a lot easier."
Douglas Ort, division manager at Hosokawa Polymer Systems, which specializes in size-reduction equipment and washing systems, said his booth was "hammered" with visitors upon the trade show opening. He was impressed with not just the number of people interested in his company's equipment but also the quality of their projects.
"For us, we're very happy with it. It's a very good conference," Ort said.
The event also gives his company the chance to speak with other equipment vendors to get a sense of their outlook for technologies that Hosokawa Polymer Systems doesn't provide. That helps his company identify its future role in providing a complete service option, he said.
Unisensor set up in the exhibit hall to introduce a new product to U.S. market for the first time: the Powersort 360, which sorts a variety of plastics into multiple fractions. First unveiled in Europe at the K Show last year, the equipment is capable of sorting dark plastics, including those from automobiles and electronics.
Oliver Krieg, head of marketing for the company, said Plastics Recycling 2017 was a very efficient way to meet the industry's leaders. And it has helped grow recognition of his brand. Over Unisensor's years of participating in the conference, Krieg said he has seen a growing familiarity with his company and its products, allowing him to shift his emphasis away from introducing his company for the first time toward meeting those who already know his products – and some who already own them.
"Maybe it switched a little to a networking conference," Krieg said.