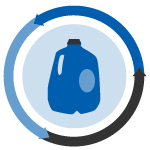 Cornell University researchers push ahead a technology that could lift PE and PP recycling, and a handful of companies targeting hard-to-recycle plastics grab attention.
Recycling beach plastics: B Corporation Thread International will provide fiber sourced from recovered beach plastics to Timberland, which will use the material in a new line of footwear. Greenbiz reports that Thread International is working with locals in Haiti to recover beach plastics, and it will sell the recycled-content fabric, called "Ground to Good," for use in Timberland's new sneakers and boots. Technology company Dell also recently announced its project to use recovered ocean plastics in packaging.
Additive from academia: Researchers at Cornell University have developed an additive that can bring together recovered PE and PP to produce a particularly durable polymer. The advancement, notes the Cornell Chronicle, could "revolutionize plastics recycling."
Innovation in action: British news outlet The Guardian recently took a look at a handful of companies using innovative technology to increase tonnages of recycled plastic around the globe. The featured firms, including Oregon-based Agilyx, target materials including contaminated polystyrene, multi-material pouches and other items that have been difficult to cost-effectively recycle.
Shingled out: A Spanish company that makes roofing tiles with recovered LDPE was given a "best product" award recently by a European plastics recycling group. Recycling International notes the products from Roofeco Espana are also significantly lighter weight than a typical shingle.
Full of energy: An initiative to keep hard-to-recycle plastics out of the landfill may be expanding. In recent months, residents of Omaha, Neb. have been able to place pouches, wrappers and other products into a separate bag in their curbside recycling receptacles so that they can be easily separated and sent to a cement kiln for use as fuel. Initial success of the industry-backed Hefty Energy Bag program may lead to it rolling out in other communities soon, according to a story in Plastics News.