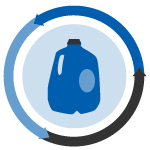 Miniature liquor bottles are targeted for a 15-cent container deposit, and companies work to implement more environmentally friendly packaging.
Bottle bust: A driver was stopped and arrested as he attempted to smuggle nearly 7,000 pounds of used beverage containers from Arizona into California to redeem illegally, authorities said. The state's Department of Resources Recycling and Recovery (CalRecycle) this week announced the early January arrest of the driver, who is suspected of felony recycling fraud, attempted grand theft and conspiracy, and is awaiting formal charges.
Taking it back: A recycling center in Fort Collins, Colo. has begun accepting plastic bags and other film packaging from the public. The Coloradoan reports the free service comes a few years after local controversy over a 5-cent charge for plastic bags, a law that was passed by the city council but ultimately repealed following citizen outrage.
Less is more: Milk cartons from a Lynchburg, Va. dairy will be made with 10 percent less plastic, a lightweighting move that brought the jug down from 62 grams to 56 grams. According to the Augusta Free Press newspaper, the effort is one component of the sustainability priorities adopted by Kroger, the dairy's owner.
Nipped in the bud: Legislation advanced by Maine lawmakers would charge a container deposit on miniature liquor bottles, also known as "nips." The Portland Press Herald newspaper writes that the 15-cent deposit was endorsed by a legislative committee last week and will now go before the full House of Representative and Senate for further consideration.
Resin development: A beverage giant and a biotechnology company are working together to produce biodegradable resins for films. Environmental Leader reports that PepsiCo, whose sustainability goals include using 100 percent recoverable or recyclable packaging by 2025, has partnered with Danimer Scientific to work toward that target.
Bio-bottles: Two food and drink products companies have partnered with a company that says it is working to develop 100 percent bio-based PET bottles. According to Sustainable Brands, Nestle and Danone are working on the project with California-based Origin Materials, which has reportedly produced bottle samples with 80 percent bio-based PET and is aiming to go even higher.