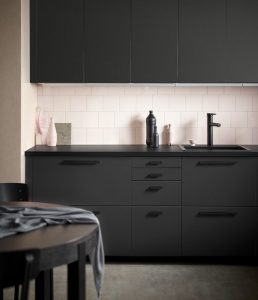 Ikea and an Italian partner have developed a recycled PET foil, which is being used in kitchen cabinet fronts.
The furniture designer and worldwide retailer says it worked with Italian company 3B to create the foil. The material is being used as a laminate around reclaimed wood in the new Kungsbacka line of kitchen fronts.
"The biggest challenge was to create a foil from recycled material that fulfils the same quality requirements as a foil made of virgin material," Marco Bergamo, head of development at 3B, stated in a press release. "We worked hard not to compromise on neither quality nor price."
The PET bottles are collected by Japanese municipalities. About 25 half-liter bottles are used in the foil to cover a 500-square-inch surface.
"What we do at Ikea has a big impact on the environment because we work with large quantities," said Anna Granath, product developer at Ikea. "By using recycled materials, we can produce more sustainably."