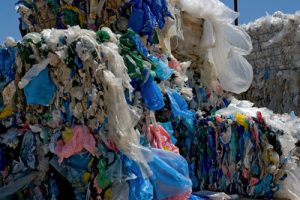 An outreach effort in Connecticut will encourage residents to take advantage of retailer drop-off sites for PE films.
The American Chemistry Council (ACC) and Connecticut state government partnered to bring the Constitution State into the Wrap Recycling Action Program (WRAP), a public-private partnership that promotes film recycling. The program is quickly expanding across the country.
PE films are accepted for recycling at 175 grocery and retail stores across the state, yet a recent survey shows only half of the state's residents know that certain plastic items should be returned to stores for recycling, not placed in curbside bins.
Representatives of the ACC's Flexible Film Recycling Group and the state Department of Energy and Environmental Protection announced the campaign kickoff Feb. 21 at a Price Chopper supermarket in Middletown.
"As you will hear time and again today, these plastic bags and wraps do not belong in your curbside recycling bins," Shari Jackson, director of film recycling for the ACC, stated at the event. "Instead, Connecticut residents can simply gather their clean and dry bags and wraps in a plastic shopping bag at home and then deposit that bag in a storefront recycling bin on their next trip to a grocery store."