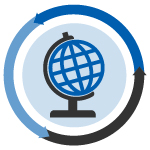 A government insider says a U.K. bottle deposit is unlikely, and designers find a creative way to utilize discarded plastic bottles.
Worldwide: New research shows that microplastics are more common in cosmetic products than previously believed. Recycling International reports on the research conducted by the United Nations Environmental Program and the Plastic Soup Foundation, which found that up to 100,000 plastic "microbeads" are washed into the ocean following a single shower by a person wearing certain cosmetic products.
United Kingdom: A plastic bottle deposit is unlikely to be implemented in the U.K., according to a government insider who spoke to the Daily Mail. Although plastic bottle deposit measures have been shown to increase recovery rates elsewhere in Europe, the source said government officials were disappointed with a deposit trial run in Scotland and would likely vote the measure down.
Thailand: Designers have tackled excessive plastic trash by turning it into an art installation. Sustainable design blog Inhabitat writes about the project, which included plastic bottles that were broken down by hand into a textile-like material for use in the artwork.