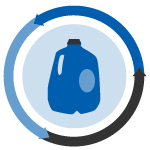 Students work to recycle PLA filament used in 3-D printing, and an Ohio plastics recycling company closes its doors after more than a decade.
Bag fee foiled: New York Gov. Andrew Cuomo has signed a bill prohibiting New York City from implementing a 5-cent fee for plastic bags. The New York Times reports on Cuomo's move, which followed a bitter disagreement between city and state lawmakers over the merits of the fee.
Eliminating waste: U.S. Rep. Keith Ellison has introduced the Zero Waste Development and Expansion Act, which would create a national grant program to fund efforts toward achieving a goal of zero waste. In a press release, Ellison noted the plan would create local jobs as well as benefit the environment. The bill was previously introduced in 2015 but failed to advance in Congress.
Closing up shop: Ohio-based InterGroup International Ltd. has ended its run after 11 years in business. In an interview with PlasticsNews, owner Neil Gloger attributes the closure to the company racking up too much debt, in part due to several customers' bankruptcies.
College creativity: Students at the University of California, Berkeley are working to implement a campus-wide recycling system for the plastic filament waste generated during 3-D printing. 3DPrint.com writes about the fairly low-tech process, which involves using a household blender to grind down the filament waste, melting it and blending it with virgin PLA pellets, and extruding it onto a filament spool to be used for more 3-D printing.