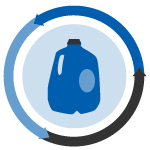 Ikea buys a stake in a plastics recycling company, and a proposed plastics tax angers industry associations in Southeast Asia.
Tray waste stacks up: About 1.3 billion black plastic trays are disposed of in the U.K. every year, even though they are commonly recyclable, new research shows. According to the Daily Mail, industry experts point out that many optical sorters can't properly identify black plastics.
Sustainable investment: Ikea Group has purchased a 15 percent stake in Morssinkhof Rymoplast Group, a Dutch plastics recycling company. Plastics News reports that the acquisition is the first purchase out of Ikea's planned 1 billion euro ($1.07 billion) investment in sustainable resource supplies.
Tax draws flack: A proposed plastic tax in Indonesia has angered 17 industry associations, who argue it would reduce the country's competitiveness. The Jakarta Post describes their concerns, which include the tax hurting the plastics recycling industry and increasing prices of food and beverages, in addition to harming international trade.