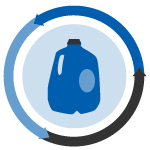 A company says its enzymatic depolymerization technology can be applied to opaque PET containers, and a startup targeting ABS and PLA will compete for a major prize.
3-D printer filament: ReDeTec, a startup that makes at-home equipment to recycle ABS and PLA into 3-D printer filament, is one of three finalists in the 2017 Extreme Tech Challenge, MaiTai Global announced this month. ReDeTec and its fellow finalists now head to Necker Island in the Caribbean Sea for the culminating round, during which they'll pitch their ventures to Richard Branson, founder of the Virgin Group of companies.
Tackling opaque PET bottles: France-based Carbios, which uses enzymes to break down PET into its components monomers for recycling, says its technology can be applied to the recycling of opaque PET containers. Opaque PET containers that are white on the outside and gray inside are replacing some HDPE milk jugs, presenting challenges for traditional reclaimers, according to the company.
Award received: MBA Polymers, a reclaimer specializing in recycling challenging plastics streams, has won a Circulars award. The company, with locations in the U.S., Austria, China and the U.K., specializes in recycling plastics from durable goods into high-end applications.
E-plastics recycling: An electronics recycling company in the Netherlands is going into the e-plastics recycling business, according to Recycling International. Coolrec has opened a facility, called Coolrec Plastics Compounding, to produce up to 10,000 metric tons of pellets from scrap electronics per year.
Plastics to waxes: A company using a depolymerization technology to recycle post-consumer plastics into industrial waxes has made it onto a list of top clean technology companies. Brantford, Ontario-based GreenMantra Technologies announced it has been named to the 2017 Global Cleantech 100 List, created by San Francisco-based company Cleantech Group.
Recovering auto plastics: U.K.-based Axion Polymers has released a line of 100 percent recycled ABS grades derived from end-of-life vehicles, according to Recycling International. The plastics are suitable for a range of injection molding applications, particularly in the construction and automotive sectors.