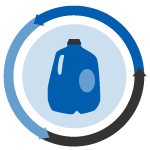 New York City shoppers will be hit with a new bag fee, and the U.K.'s carpet diversion rate continues to rise.
Creative currency: High school students in Kentucky have invented a machine that accepts plastic bottles as payment to charge portable devices. Local ABC affiliate WKRC profiled the students' project, which was an effort to encourage recycling while adding electrical outlets and saving power.
Tote tax: Stores in New York City will charge at least 5 cents for each plastic, paper or cloth bag provided to customers starting Feb. 15, the city's sanitation department announced recently. City residents use more than 10 billion single-use bags each year, the department said, which equates to more than $12 million in disposal fees.
'Brexit' and EU law: Despite its planned exit from the European Union, the British government expects waste legislation under consideration by the European Parliament would still apply to the U.K., reports Resource Media. The legislative package includes an action plan and proposals aimed at meeting diversion rate targets. A committee in the European Parliament last week approved a 70 percent diversion target for 2030, higher than previously proposed by the European Commission.
Rug rates rise: Carpet diversion in the U.K. reached 35 percent in 2016, according to a Carpet Recycling U.K. press release. More than 156,500 short tons of carpet was diverted from landfill, representing 15 percent growth over the previous year.
Market outlook: A report predicts the global plastics recycling market will grow by an average of 6.9 percent each year from 2016 through 2024. The report from Transparency Market Research notes rising environmental awareness, disposal bans for plastics and changes in plastic product design to aid recyclability are all fueling the recycling market in developed countries, especially in Europe.