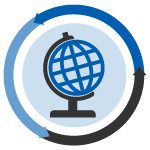 A recycled polyester plant expands its South Carolina operations, and a filament recycling startup will pitch its venture to business tycoon Richard Branson.
Final round: ReDeTec, a filament recycling startup, is one of three finalists in the 2017 Extreme Tech Challenge, MaiTai Global announced this month. ReDeTec and its fellow finalists now head to Necker Island in the Caribbean Sea for the culminating round, during which they'll pitch their ventures to Richard Branson, founder of the Virgin Group of companies.
Driven by demand: USFibers will expand its recycled polyester fiber manufacturing operations in South Carolina, according to a press release. The company plans to expand its product offerings into specialty markets, add 20 new jobs and increase its research and development capabilities.
Trump scraps TPP: President Trump withdrew the U.S. from the Trans-Pacific Partnership on Monday, The New York Times reported. The agreement aimed to bring the U.S. and 11 other Pacific Rim countries together in a pact that would lower tariffs and create a free-trade zone for about 40 percent of the world's economy, according to the Times. Some industry experts saw the TPP as beneficial for the recycling world, in part because it would reduce barriers to moving material to Asia.