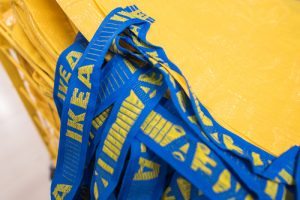 EPS packaging will be replaced by fiber-based alternatives for Ikea's ready-to-assemble furniture. While the retailer cites environmental friendliness as its goal with the change, not everyone is thrilled to hear the news.
"It is commonplace for corporations to link eco-advancements directly to the elimination of plastic, often in the name of unfounded environmental responsibility," the EPS Industry Alliance, which advocates on behalf of expanded polystyrene manufacturers, said in a statement.
The company's 2016 sustainability report, released in December, highlighted removing EPS from packaging as one of the year's highlights. The report noted that finding an alternative to EPS, which was favored for its price and durability, has been a company goal for the past four years. Last year, Ikea settled on a fiber-based, honeycomb-shaped material that's more commonly recycled than EPS.
The move will reduce Ikea's EPS volumes by more than 8,800 tons per year, replacing the plastic with a "sustainable alternative." But the EPS-IA, which has more than 70 member companies, didn't like that line of thinking. The industry group blasted Ikea in a statement on Jan. 18, accusing the retailer of engaging in "environmental smoke and mirrors" to spread misinformation about EPS.
The EPS-IA criticized the company for not providing any meaningful information on the environmental improvements that will occur through the switch to fiber-based packaging. The group also took Ikea to task for suggesting that paper is always better than plastic, which the EPS-IA said is "not a scientific fact, but rather a misconception about how plastic products are made, how landfills work, the incidence of plastic litter and an inherent belief that all non-biodegradable products negatively impact the planet."
In an email statement to Plastics Recycling Update, Ikea responded to the EPS-IA claims by reiterating its decision to "replace all fossil-based plastic with renewable sources and/or recycled material until 2020."
"EPS is a fossil-based material which is not recyclable in an industry scale, (which is) why banning it in our packaging is an important step towards our goal," Ikea's statement said. The company, which operates 340 stores in 28 countries, added that most countries have systems in place to recycle paper.
EPS will still appear in packaging for Ikea's appliances, according to the sustainability report. Appliances are purchased directly from suppliers, and Ikea has found it "more of a challenge to affect this industry," the report said.