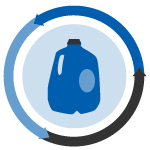 Cities take steps to ban certain plastic products, and an expert clears up some common misconceptions about recycling of everyday materials.
Just the facts: Liz Swafford, a recycling and education program coordinator in Georgia, addressed some common myths about recycling in a column for The Daily Citizen. Swafford shattered the notion that electronics, bottle caps, containers with labels, pizza boxes and paper with staples are non-recyclable items.
Town takes aim at bottles: San Luis Obispo, Calif. officials are considering a partial ban on plastic beverage containers, The Tribune wrote in an endorsement of the proposal. If the proposal is approved, the City would stop buying water bottles for its own use and they would not be sold at city facilities or events that need a city permit.
Bags banned: Shoppers in Wellesley, Mass., will no longer receive plastic bags in the checkout line as a local bag ban goes into effect this month. According to the Swellesley Report, the resident-approved plastic bag ban will be implemented next week for larger stores and in April for smaller shops.