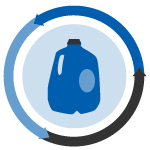 The Association of Plastic Recyclers describes the relationship between plastics recovery and sustainability, and recycled-plastic products on two continents are highlighted.
Repreve expands to Vietnam: Unifi, Inc. has expanded its Repreve brand of recycled PET fiber to Vietnam. The company licensed the manufacturing, sales and distribution of Repreve filament yarn in Vietnam to Century Synthetic Fiber Corp., headquartered in Ho Chi Minh City.
Defending the sector: Steve Alexander, president of the Association of Plastic Recyclers (APR), recently penned an op-ed outlining plastics recycling as a key to sustainability. In his piece, he takes aim at additives that inhibit recyclability and burning plastics for energy recovery.
Reusing films: Two women in the Canadian province of Saskatchewan are crocheting post-consumer plastic bags into thick sleeping mats for homeless people. CBC.ca reports that Colby Kuzma and Alyssa Scheffler, both of Saskatoon, use about 500 to 700 plastic bags for each mat.
Recycled-content products: The European Association of Plastics Recycling and Recovery Organizations (EPRO) has released the list of finalists in its recycled-content products competition. British Plastics and Rubber takes a look at one of the finalists: a 100 percent recycled content product called the "Loft Stilt," which raises an attic floor so that up to 10.6 inches of insulation can be installed below.
Recycled PP cutlery: Two companies are collaborating to create a line of 100 percent recycled PP cutlery, according to Plastics News. The initiative from the Preserve brand and molder UrthPact LLC, both based in Massachusetts, will begin with a rollout in cafes at six grocery stores in the Northeast before expanding to 400 locations.
Recycling in D.C.: Washington, D.C. has achieved a 28.5 percent residential recycling rate during the 2015 fiscal year, more than seven percentage points higher than its 2010 number. The statistic was released by the District of Columbia Department of Public Works in its first-ever solid waste diversion progress report.