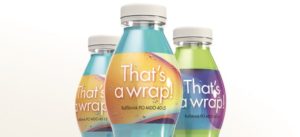 UPM Raflatac has unveiled shrink-sleeve labels that avoid causing problems in today's PET bottle recycling processes.
The international labels company in December announced that its undecorated RafShrink PO MDO 40 LS and RafShrink PO TDO 45 HS shrink sleeve label films received critical guidance recognition from the Association of Plastic Recyclers (APR), a key plastics recycling trade group with a membership that makes up more than 90 percent of North American PET container recycling capacity.
The labels are different from an earlier innovation, the RafShrink PO MDO 40 HS, which already received critical guidance recognition from APR.
Critical guidance recognition means the labels have been shown to meet APR's protocols for testing to ensure they don't inhibit bottle recycling. "The APR recognition is based on the innovation meeting or exceeding the most challenging test conditions and strictest guidance criteria," according to an APR letter confirming the recognition.
"The APR recognition of our two new shrink sleeve films emphasizes our commitment to support the recyclability of plastic packaging, and sustainability in general," Erkki Nyberg, director of shrink sleeve films at UPM Raflatac, stated in a press release. "We continue to grow our product portfolio to meet the requirements of various shrink sleeve label application technologies used by global brand owners to showcase their products."
Shrink sleeve labels are growing in popularity among beverage brands and bottlers, but some of them inhibit recycling. Those that fail to fully separate from the PET bottles, and those made of denser resins, will follow PET to the bottom of float-sink tanks, contaminating the stream. Some full-wrap shrink sleeve labels confuse optical sorters by obscuring the resin of the bottle itself, resulting in missorted bottles.
In its August issue, Plastics Recycling Update wrote about extensive trials the RafShrink PO MDO 40 HS label film underwent, including in-depth optical sorter testing.