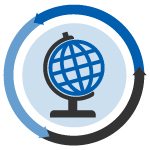 A European bottler is putting a twist on bottled water, and a U.K. plastics recycling company strikes a deal to avoid bankruptcy.
U.K.: Regain Polymers will stay in business after entering a company voluntary arrangement (CVA) with its creditors. MRW says that means Regain Polymers can continue to operate and avoid bankruptcy.
Sweden: A writer takes aim at media portrayals of Sweden as a nirvana of recycling, noting that much of its material is simply burned for energy recovery. Dominic Hogg, chairman of Eunomia Research & Consulting, writes in the Independent that Sweden is wrongly considering incineration "recycling."
U.K.: A European bottler for Coca-Cola products is using a new "twist" bottle for water. Plastics News says the bottles use 32 percent less plastic than the previous model.