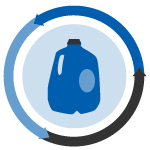 One industry expert said "skyfilling" of plastic scrap may hurt the climate more than landfilling, and the Closed Loop Fund checks in on a project it helped finance.
Trump news: President-elect Donald Trump has tapped Dow Chemical CEO and Chairman Andrew Liveris to head the American Manufacturing Council, according to CNN. The group advises the Secretary of Commerce.
Landfill vs. "skyfill": Keith Freegard, director at Axion Polymers, writes that storing or landfilling waste plastic might be a better idea than burning it for energy recovery. He says the greenhouse gases emitted in the waste-to-energy process don't outweigh the benefits.
Sortation success: The Closed Loop Fund is offering encouraging details on one of the projects it has funded. Lakeshore Recycling Systems' new MRF in Chicagoland is poised to divert 1 million tons of material from landfill over the next nine years.