Black Friday has come and gone, but chances are you still have holiday shopping to do. Why not get your loved ones gifts made from recycled plastics?
Check out these recycled plastic gift ideas from us here at Plastics Recycling Update. And remember to recycle all the water and soda bottles from your holiday party: They could be turned into a gift that's featured on our list next year.
Product: French press coffee brewer
Company: Starbucks/Bodum
Seattle
Recycled content: 50 percent post-consumer polypropylene
Market: Coffee drinkers
Many coffee lovers turn to a French press to make a more flavorful and full-bodied cup. With this product, your conscience can feel a little better too.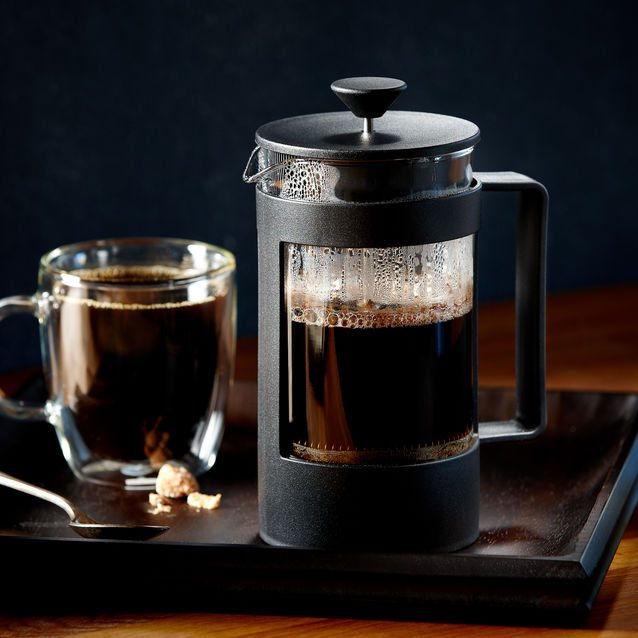 The Recycled Coffee Press by Bodum is made with 50 percent post-consumer polypropylene. A Starbucks spokesperson says the device fits the coffee giant's commitment to social and environmental responsibility.
The press can be purchased online or in Starbucks stores for $19.95.
This isn't the first time Bodum and Starbucks have teamed up. As Resource Recycling, sister publication to Plastics Recycling Update, reported in 2010, the kitchenware company produced a French press for Starbucks made of 30 percent post-consumer content.
Starbucks promotes a range of other sustainability efforts. According to its website, Starbucks uses 50 percent post-consumer rPET for its cold cups in European markets, and 15 percent rPET for bistro boxes sold in the U.S.
---
Product: Duffel Bag
Company: Hamilton Perkins Collections
Norfolk, Va.
Recycled content: 100 percent post-consumer PET
Market: Travelers
Hamilton Perkins started his company while he was still in college, simply out of necessity.
"I couldn't find a bag that I was really proud to carry and that I could tell friends and family about," Perkins said.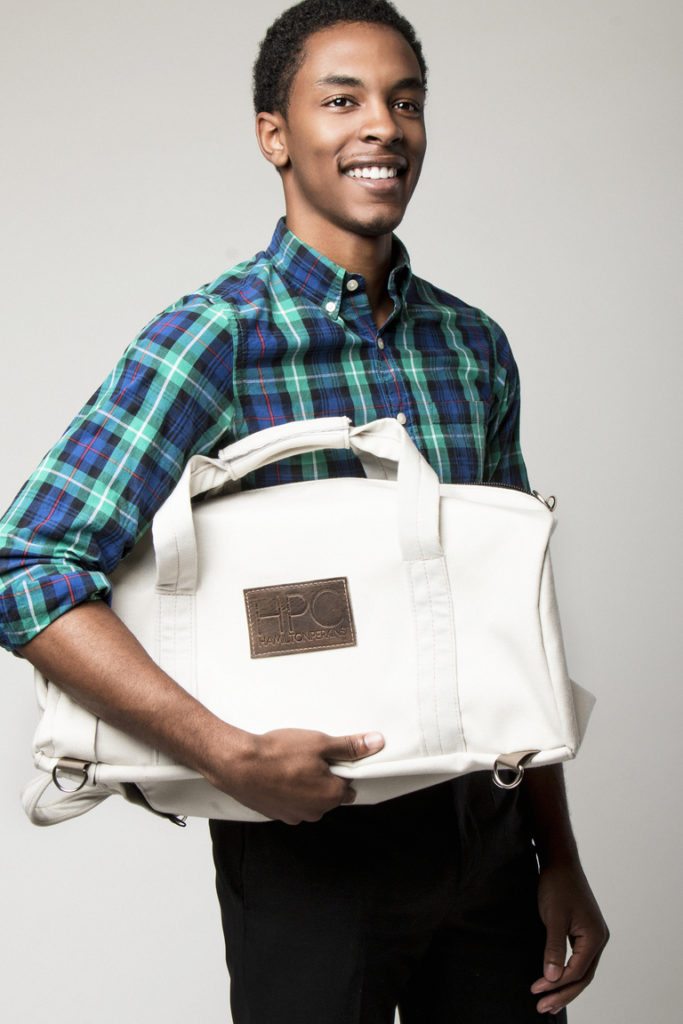 His bags are functional, made with three zippers so the entire bag can be splayed open, and they are also made with the environment in mind. The canvas is made from recycled PET bottles collected in Haiti.
Perkins works with Thread International, which collects the bottles and sends them to mills on the U.S. East Coast to be turned into canvas.
The inside of the bag is lined with vinyl from old billboards and signs that would otherwise get thrown away.
Perkins hopes the bag leads to more recycling among consumers.
"It's hard to see the effects of recycling if you just throw it … into the blue recycling can. You never really get that constant reminder," he said. "But if you carry a product that's made out of something that's been put through this process, potentially, we continue to raise overall awareness of why we're doing what we're doing."
---
Product: Belt
Company: Jelt
Bozeman, Mont.
Recycled content: 100 percent polyester
Market: General consumers
Creating a product from recycled content is difficult, says Jen Perry, inventor of the Jelt Belt. But making it in the U.S. is no walk in the park either.
"The most difficult part of moving manufacturing to the U.S. is that many of the companies that make injection molds and factories that do assembling do not get back to small companies with bids, and if they do, it takes them months to respond," she said. "But I am determined to have the 'Made in the U.S.A.' stamp on Jelt."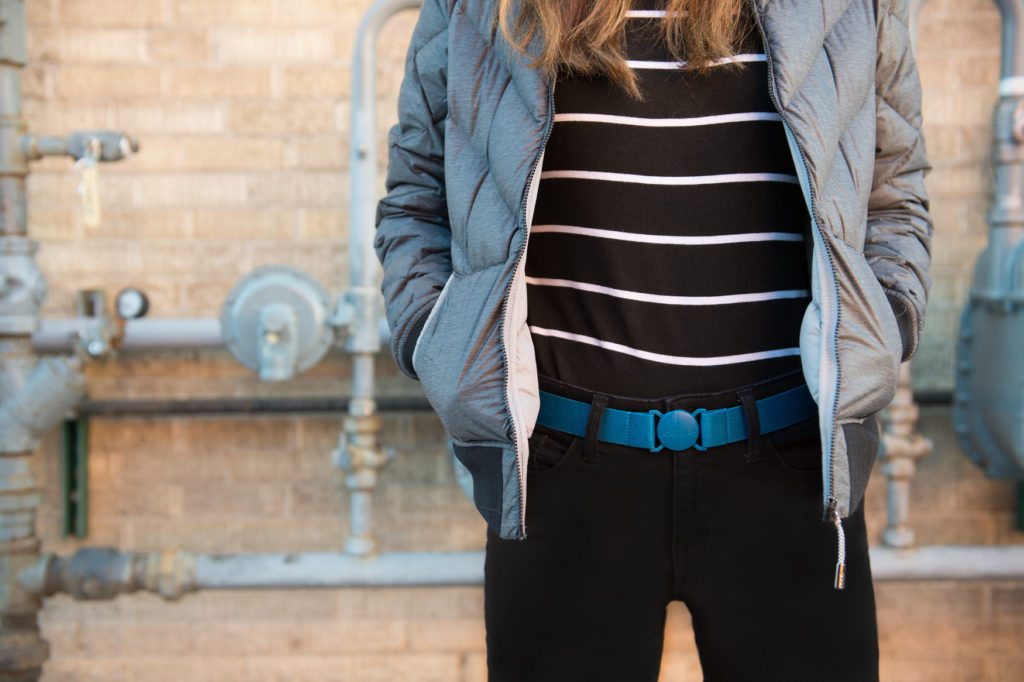 The Jelt Belt is a low-profile, metal-free belt with a silicone gel on the inside to grip the pants.
The belt, which comes in a variety of colors, is made from a recycled yarn woven into a strong elastic. The nylon buckle is virgin content, because recycled content would make it too fragile, as is the silicone, Perry said.
"We currently source our yarn from China because it's the only place to access recycled polyester yarn in large quantities right now," she said. "China is also the only place that does silicone stamping onto elastic, which makes our elastic super grippy."
Perry, who launched Jelt in early 2014, said she hopes to move operations to the U.S. The company would still receive the stamped elastic from China but would complete packaging manufacturing and product assembly in Montana.
With every belt purchased, Jelt donates $1 to Warriors and Quiet Waters Foundation, a group dedicated to healing combat-wounded veterans through fly-fishing activities.
---
Product: Adirondack Rocker chair
Company: Loll Designs
Duluth, Minn.
Recycled content: 100 percent post-consumer HDPE
Market: General consumers
Outdoor furniture made today by Minnesota-based Loll Designs was originally conceived as a way to recycle the scrap from the HDPE skate parks built by the original company, TrueRide.
Today, Loll Designs is no longer in the skatepark business but has, instead, jumped headlong into recycling HDPE into outdoor furniture.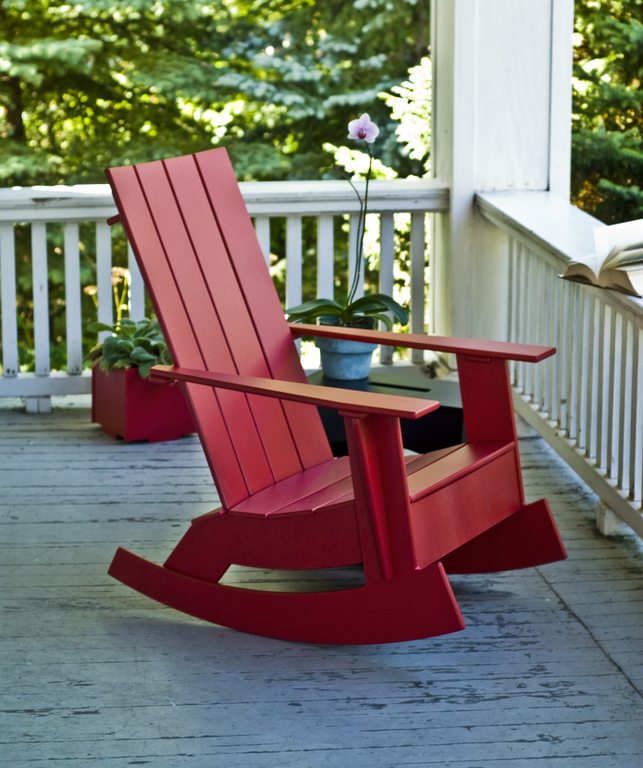 Originally using post-industrial plastics, Loll Designs now uses post-commercial recycled material (except for black product, which are still made of post-industrial content), said Heather Strasser, customer service manager for Loll Designs.
The company says it is best known for its modern Adirondack chair, which is made from the equivalent of about 400 recycled milk jugs. The Adirondack Rocker comes in 10 different colors and weighs about 50 pounds.
The resin include a UV additive designed to improve durability and reduce surface degradation caused by UV light, according to Loll Designs.
The company buys recycled plastic sheets from Vycom Plastics of Scranton, Pa., Strasser said.
The company estimates it has recycled an estimated 46 million milk jugs over the past decade.
---
Product: Bags
Company: Deja Bags
Portland, Ore.
Recycled content: 90 percent recycled polyester film
Market: Consumers
Movie theaters' switch to digital systems resulted in a lot of unneeded plastic: reels of 35-millimeter film from trailers and movies.
Deja Bags has found a way to turn them into something useful: bags, wallets, ties and lampshades. The Venice bag (pictured) is one of the most popular items for the Portland, Ore.-based company.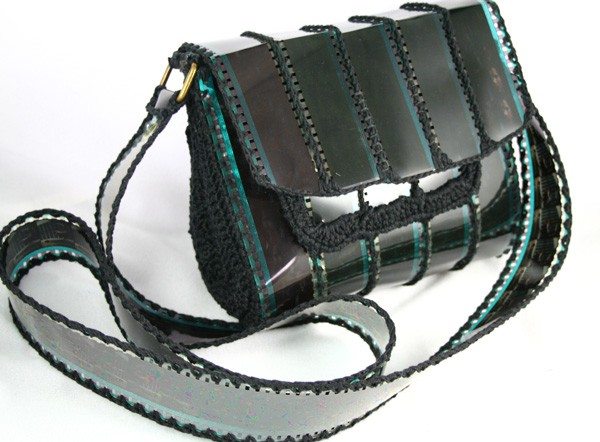 "Each bag is a specific movie or mix of many different feature Hollywood films that were features after the late 1990s through 2012 when digital took over most theaters," according to the company.
Made of 90 percent reused polyester film, the bags are hand-crocheted by a women's cooperative in the Philippines.
All of the movies in the bags were destined to be destroyed after their run in theaters to avoid pirating. The film is backed with a clear polyester film, which allows people to see images when they're held it up to the light but prevents people from seeing contents inside inside the bag when it's closed.
---