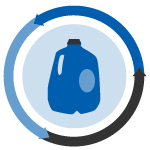 A Coca-Cola bottling plant notches a high recycling rate, and a man is caught defrauding Germany's bottle redemption program.
Recovered packaging prices down: Various buyers of scrap plastic containers show they are willing to buy baled milk jugs at about 24 cents per pound, down 4 cents per pound from November. In comparison, the price being paid for colored HDPE containers fell a whopping 8 cents to about 15 cents per pound. PET bottles remain in a rut, with prices at the 10-cent-per-pound range essentially being the same since August.
Sky-high recycling rate: Coca-Cola Bottling Company of Northern New England (CCNNE) has achieved a 96 percent recycling rate at its facility in Londonderry, N.H., according to the Northeast Recycling Council. CCNNE works with Casella Resource Solutions to recycle materials.
Recycling fraud: A German man was sentenced to 10 months in prison for redeeming the same beverage bottle 177,000 times. According to Recycling International, the man rigged a bottle recycling machine so it would accept the bottle without shredding it, allowing him to use the same bottle for the financial reward. In all, he got 44,000 Euros (more than $47,000) from his scheme.