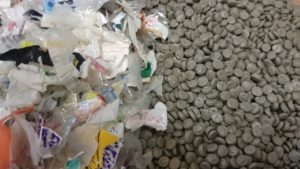 The Reflex project successfully demonstrated flexible film packaging could be recycled into items such as boxes and crates or drainage pipes. That was one of the successes of the two-year research effort, according to the project coordinator.
Led by U.K.-based Axion Consulting, the Reflex (Recycling of Flexible Packaging) project delved into potential solutions to encourage recycling of the notoriously difficult-to-recycle packaging format. It explored creating recycling-friendly flexible film designs, using digital watermarks to help optical sorters recognize the materials, and quantifying and demonstrating the commercial value of the recovered plastics.
The results of the two-year project were unveiled during the K Show in Düsseldorf, Germany in October.
"The Reflex project demonstrated how state-of-the-art technology in sorting and preparation for recycling can help increase the rate of flexible packaging recycling," Roger Morton, director of Axion Consulting, stated in a press release. "It also showed how novel packaging designs and potential new marking techniques may further increase recyclability and efficiency of the whole process."
Plastic bags, candy wrappers, frozen food bags and stand-up pouches are examples of flexible packaging. They make up nearly one-third of consumer plastic packaging in the U.K., yet most are sent to landfill or burned for energy recovery.
The Reflex project partners included the following companies: Amcor, Dow Chemical Co., Interflex Group, Nestlé UK, Suez, Tomra Sorting and Unilever. The project is co-funded by the government agency Innovate U.K.
Dow has been working to commercialize recycling-friendly flexible packaging it developed. Earlier this year, Plastics Recycling Update reported on a new product engineered by Dow for recyclability: an EVOH/PE pouch with an embedded compatibilizer, allowing it to be recycled in retail PE film collection streams.
According to the Axion press release, the next step after Reflex is to develop guidelines for brand owners and packaging producers to help them create flexible packaging that's suitable for mechanical recycling. The guidelines have been drafted but, before they can be released, more work needs to be done to test the compatibility of different flexible film materials, the press release states.