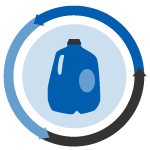 A recyclable, recycled-content polyester material has been developed for automotive components, and a high-molecular-weight PLA could replace PP in packaging.
PLA to replace PP? A new, stronger PLA has been created that researchers say could replace PP in packaging. The European Innorex project led to the development of a process to formulate PLA without metallic catalysts and using alternative energies, according to a press release. The final product has an impact resistance 200 percent higher than other PLA, allowing it to replace PP in food packaging.
From old to new: Chemistry company Carbios has applied its enzyme depolymerization technology to crystalline PET, allowing the technology to be used on PET bottles. The French company has already applied its process to amorphous PET. The company's technology recovers the component monomers in PET, terephthalic acid and mono ethylene glycol, so they can be used to make new PET.
Recyclable auto component: U.S. company Foss has developed an all-polyester nonwoven containing up to 75 percent recycled fibers, a product that's replacing some thermoformed automotive parts, reports Sustainable Nonwovens. The fully-recyclable product is lighter than the composite parts it's replacing, which are made of PP sandwiched between a face fabric and scrim of polyester nonwoven.
DIY plastics recycling tech: Treehugger.com features an effort to distribute plastics recycling equipment to the places where material is generated. The project, called Precious Plastic V2.0, provides individuals and organizations the open-source information to build plastics recycling equipment using simple tools.
Entering the plastics-to-fuel biz: Next Generation Group, a company known for making mechanical recycling equipment, has started a pilot project that breaks down plastic into fuel. Plastics News says the technology could be installed at plastic recycling facilities, allowing processors to make the most of their waste.