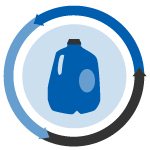 Thousands of additional recycling bins are coming to public spaces, and lab materials are getting a second life.
Grant announcement: Keep America Beautiful and the Coca-Cola Foundation announced they will provide 62 grants to communities in 30 states for public recycling bins. The program will fund more than 4,500 bins this year.
Plastic fire: Officials are investigating a two-alarm fire at a plastics recycling facility in central California. Recordnet.com reports the fire at Epic Plastics, which makes landscape products from recycled PE, is considered suspicious.
Reality check: A leader at Enso Plastics writes in Plastics News about the limits of recycling in sustainability. Paul Wightman says recycling extends the life of some plastics, but it's not an end-of-life solution.
Recycling gloves: RightCycle, a program by Kimberly-Clark Professional, is working with the University of Illinois Urbana-Champaign and Purdue University to recycle lab gloves, shoe covers, masks and other single-use items into plastic pellets for patio furniture and storage bins.