This story originally appeared in the August 2016 issue of Plastics Recycling Update.
Subscribe today for access to all print content.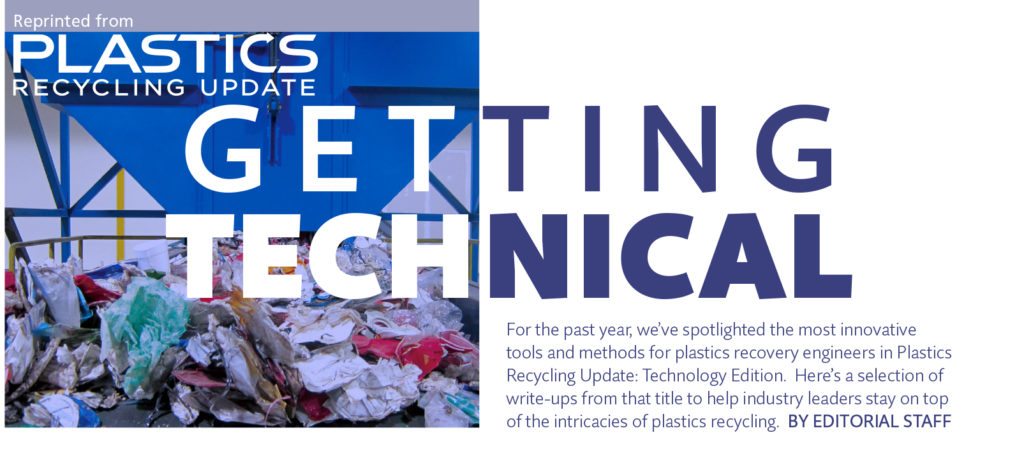 All recycling professionals know it takes quite a few hands to transform collected material to new products. When it comes to plastics recycling, moving material through the chain is a particularly technical process – and equipment innovations are always helping reclaimers, resin makers and other stakeholders find ways to more efficiently recycle the incoming plastic stream.
To allow plastics recycling engineers to stay on top of all the technology re-shaping that corner of the business, Resource Recycling (the parent company of this publication) last year launched an online newsletter called Plastics Recycling Update: Technology Edition. Delivered to readers monthly and edited by Resource Recycling staff writer Jared Paben, the e-newsletter digs deep into plastics processing methodologies, breakthroughs in the equipment realm, updates on additives and much more.
The excerpts below offer a sample of some of the best content we've run thus far in the new e-publication. To continue to keep up on the ideas and equipment pushing plastics recovery forward, sign up for the free monthly e-newsletter at resource-recycling.com/e-subscribe.
Groups develop coating to Identify food-contact PET bottles
Researchers have developed fluorescent coating that could allow for fast, automated sorting of food-contact PET from non-food-contact PET in Europe's mixed recycling streams.
The Polymark project released preliminary results in the effort to create beverage container identifiers that are safe for food packaging and are removable after sortation.
Bottle-to-bottle recycling is allowed in the European Union, but legislation prohibits non-food-application plastic from being recycled into food-contact packaging unless there is a barrier and only virgin plastic contacts the food, according to the project.
Polymark, a three-year project funded by the European Union and multiple industry groups, aims to help facilities easily separate food-contact plastics for bottle-to-bottle recycling.
Petcore Europe, short for PET Container Recycling Europe, is the project coordinator.
The project developed flexible, spray-on bottle coatings that effectively mark PET bottles by giving them a distinct "fingerprint." Researchers used commercially available, near-UV-excitable markers "with strong fluorescence in the visible region of the electromagnetic spectrum," according to the preliminary results report. The fluorescence was distinguishable from the background fluorescence of PET, the report states.
Researchers also demonstrated the marker can be removed under alkaline wash conditions already in use in recycling facilities. That way a food-contact plastic with a marker isn't recycled into a non-food-contact product that is later mistakenly identified as food-contact plastic during recycling.
The coating approach also allows for additional dispersible marker pigments to be used in combination, allowing for the development of a coding system in the future, the report states. The technology could also be used on other polymer types, including PP.
In the U.S., plastic with non-food-grade additives can't be recycled into food contact packaging, but those additives are not used in PET anyway, said Dave Cornell, technical consultant for the Association of Plastic Recyclers.
Non-food-grade additives are used in some HDPE and PP household chemical bottles, however, making separation of food grade and non-food grade bottles an issue for those resins, he said.
A liquid process for hard-to-recycle materials
Multi-layer, multi-resin plastic packaging is becoming ubiquitous in many packaging streams – but it is typically landfilled or burned, not recycled.
However, Allentown, Pa.-based Zzyzx Polymers, is pushing ahead an innovative recycling process that could turn the plastics into something useful.
"We were able to show we could make flowable pellets out of really complicated mixtures like this [type of packaging]," said Mark Tapsak, a founding partner of Zzyzx.
Tapsak spoke as part of a technical track session at Plastics Recycling 2016 in New Orleans earlier this year.
Zzyzx (pronounced "ziziks"), which received honorable mention in the 2014 Recycling Innovators Forum, is commercializing plastics recycling research developed at Northwestern University over a number of years. The company's process blends different plastics without heating them to a liquid state, instead operating at room temperature or below. A modified twin-screw extruder is used in the high-throughput process.
"It's mechano-chemical in nature," Tapsak said. "So we do not just take powders, for example, and blend them together and say, 'That's a good blending technology.' We actually impart enough shear force into the material such that we generate free radicals and we do some chemistry."
When it comes to processing multi-layer flexible packaging, the Zzyzx method compatibilizes different polymers quite effectively, he said. It reduces impurities down to around a micron in size, disperses them and eliminates air gaps between them and the polymer. The result is a resin with good mechanical properties.
The process also works to unravel ultra-high-molecular-weight PE, which is difficult to process because it doesn't flow, even at high temperatures.
Zzyzx is working with customers to recycle their challenging post-industrial and post-consumer plastic material streams as they strive toward reducing waste. The company currently has a capacity of more than 2 million pounds per year.
Additive reduces yellowing in post-consumer PET
Small quantities of a recently created additive will reduce yellowing and graying in post-consumer recycled PET containers, according to chemical company Clariant.
The Switzerland-based company said the optical brightening product can be used in a wide variety of PET resin grades and processes,
including injection-blow molding, injection molding and extrusion. The U.S. Food and Drug Administration has approved using it in food packaging, according to Clariant.
The liquid additives were tested on a production-scale blow-molding machine at Clariant's West Chicago, Ill. facility. Bottles made of 25 percent post-consumer PET without the additive were compared with similar bottles with concentrations of 0.025 percent, 0.035 percent and 0.05 percent additives. All those with the additives were brighter and had more of a blue tint and less of a yellow tint, the press release stated.
"The human eye perceives yellowness as dirty or hazy, while blue light is seen as cleaner and clearer," a Clariant representative stated. "What is most significant, and what is most exciting to me, is how we can shift that blue value so dramatically with just 0.05 percent additive loading."
The additives are part of the company's HiFormer global brand, which includes liquid masterbatches, dosing and handling equipment, expertise and service.
A $90 million plastics-to-fuel plant planned in Indiana
A small Midwest town is slated to welcome a plastics-to-fuel facility capable of converting up to 100,000 tons of mixed plastics per year into gasoline and diesel fuels.
Renewable Energy Solutions (RES) Polyflow announced late last year Ashley, Ind., population 1,000, as the location of its first commercial-scale facility, which will cost roughly $90 million to construct. Once complete, the facility will use a patented plastics-to-fuel technology to convert mixed plastics that would otherwise be destined for the landfill into gasoline and diesel blendstock.
"We can have a varying incoming plastic stream and still make a reliable hydrocarbon product," Jay Schabel, CEO of RES Polyflow, told Plastics Recycling Update: Technology Edition.
RES Polyflow is a founding member of the Plastics-to-Fuel & Petrochemistry Alliance, which was started by the American Chemistry Council.
To date, about 65 percent of financing for the Indiana operation has come from angel equity and the remainder from debt and grants, Schabel said. He added the full $90 million has not yet been raised.
Construction is scheduled to begin in late 2016, and the plant is slated to come on-line in mid-2017, with full production expected in late 2017.
The facility will be capable of converting 100,000 tons of mixed plastics into 17 million gallons of fuel blendstock, or roughly 12 pounds of plastic per gallon.
While LDPE is probably the most common resin it will see, RES Polyflow expects the facility to also handle PVC, PP and PS. RES Polyflow will work to limit PVC to about 3 to 4 percent of the supply stream, however, because up to half of it is chlorine, which isn't a hydrocarbon and reduces the fuel yield.
Schabel sees the technology as complementary to PET and HDPE recycling, not in competition with it, he said.
Diaper recovery specialist plans new facility
A company using a patented process to recover plastics from dirty diapers has applied to build a facility capable of recycling 40,000 tons per year.
Knowaste recently submitted updated plans for its "Hayes 180" project near Heathrow Airport, outside of London. The company originated in North America but became the first in the U.K. to recycle absorbent hygiene products (AHP), including diapers, incontinence pads and feminine hygiene products.
Knowaste says its process allows for the recycling of 97 percent of the AHP.
Here's how the process works, according to the company: "The waste is shredded, separated and using advanced thermal treatment technology, the waste material is sterilized. At this stage, the super-absorbent polymers are collapsed, rendered inert and the moisture is released utilizing the Knowaste patented formula and process.
"There follows further sort and separation of plastics and fibers and removal of contaminants," the company's description continues. "The plastics continue through granulation and multiple washing stages before being pelletized to be used in new products such as plastic components or as an ingredient in composite materials replacing concrete and steel."
The company says it has formed a partnership to supply material to a manufacturer of plastic bins.