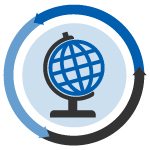 The PET recycling rate is increasing in South Africa, and a PVC recycling program in the U.K. gets kudos.
Austria: Next Generation Group, a company known for making mechanical recycling equipment, has started a pilot project that breaks down plastic into fuel. Plastics News says the technology could be installed at plastic recycling facilities, allowing processors to make the most of their waste.
Finland: A large retail chain that deals in groceries, home goods and hardware has pledged to reduce the number of plastic bags it uses in its stores. Starting next year, Kesko will charge for its plastic bags. By the end of 2017, thin plastic bags used for meat or produce will be handed out only by request.
Germany: After two years, the REFLEX project has come to an end. The results of the European project were unveiled at the K Show. The project aimed to increase options for recycling flexible packaging.
South Africa: In Africa's fifth-most-populous country, 4.7 million PET bottles are recycled every day, according to Engineering News. In 2015, 52 percent of post-consumer PET bottles were recycled. That rate is expected to increase to 54 percent this year.
U.K.: A PVC recycling program for hospitals is earning accolades. According to Recycling International, RecoMed provides collection bins and educational materials for the recycling of high-grade PVC medical supplies, like face masks, oxygen masks and tubing. The material would otherwise be incinerated or put into a landfill.