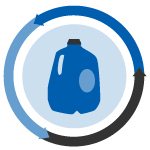 A retail giant considers paring down its polymers, and a Dutch inventor designs a mobile interactive plastic recycling installation.
Driving car recycling: An automotive recycling program hopes to find a way to collect and recover plastic auto parts. Environmental Leader reports on the Automotive End-of-Life Vehicles Recycling Demonstration Project.
Plastic ink: A Dutch inventor has created a small-scale plastics recycling machine that creates filament for 3D printers. Called the Perpetual Plastic Project, it is designed to be a mobile interactive recycling installation for schools and other other events.
Keeping it simple: U.K. retailer Marks & Spencer is considering using one single polymer in its plastic packaging, says Let's Recycle. Officials with the company, which sells clothes, food, wine, furniture and gifts, said one polymer would reduce confusion for customers and increase recycling.