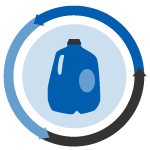 GM expands its bottle recycling program, and a fight is brewing among plastics stakeholders in Europe over disposable cutlery.
From bottles to coats: General Motors has collected and recycled 2 million bottles from residents of Flint, Mich. The bottles are turned into engine covers, air filters and coats for the homeless as part of GM's Do Your Part recycling initiative.
Tableware spat: The British Plastics Federation is blasting a new French law that bans all disposable tableware unless they are biodegradable or are made with bio-plastic derivatives. The BPF says the decree is bad for business.
Honor roll: Plastics Recycling Update: Technology Edition recently featured a story on three 8th graders who developed a way to recycle EPS into activated carbon for use as a water filtration medium. The teens and their project were selected as finalists in the Google Science Fair.
Sell-off: Sonoco Products Co. is selling its blow molding operations to Amcor Ltd., reports Plastics News. The deal is worth $280 million and includes seven manufacturing plants.
Zika protection: China is requiring anti-mosquito fumigation treatments on all shipments from the U.S. The Wall Street Journal reports it is an attempt to eliminate mosquito breeding sites and prevent the spread of Zika and other diseases.
"Beyond the Ban": Product stewardship advocacy group Upstream Policy Institute has launched a project called "Beyond the Ban," partnering with three cities toexplore policies that might be effective at preventing plastics pollution. The group will partner with Providence, R.I.; San Francisco; and Surrey, British Columbia to examine policies including product bans and extended producer responsibility.