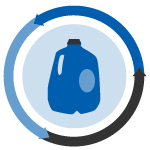 A plastic bag ban in Texas gets overturned, and local officials in New York weigh the pros and cons of agricultural plastic.
Bag ban banned: A Texas Appeal Court has ruled a ban on plastic bags in the City of Laredo, Texas is illegal, citing a state law regulating solid waste.
Applications due: The City of Austin is accepting applications for the second annual ReVerse Pitch Competition. The program helps keep raw materials generated by businesses and other institutions out of the trash stream.
Benefits and troubles of ag plastic: An article in the Press Republican out of Clinton County, N.Y. details why ag plastics are so beneficial to farmers but so difficult to recycle. The local soil and water district has two mobile compactors for baling loose plastic into cubes, which it allows local farmers to use for free.