This story originally appeared in the May 2016 issue of Plastics Recycling Update.
Subscribe today for access to all print content.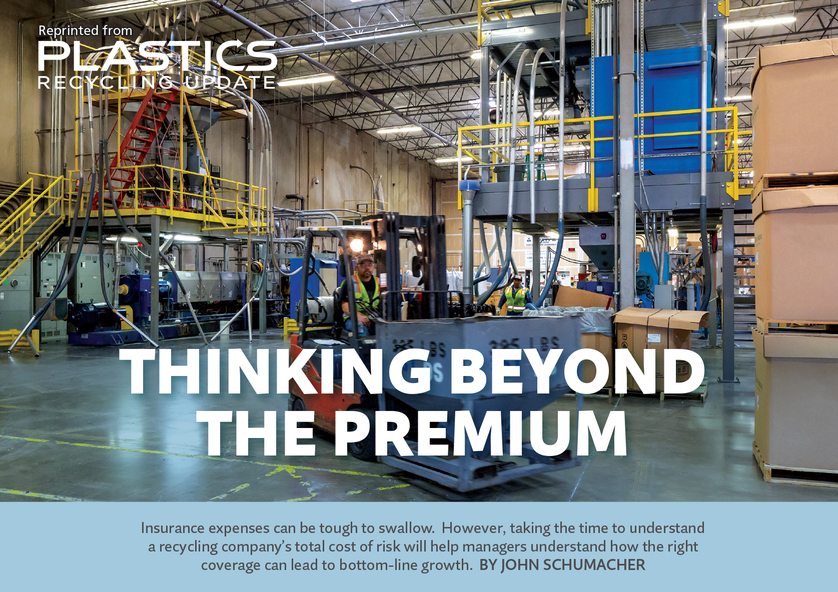 For most plastic recycling operations, insurance is a significant cost item that many business owners aren't entirely happy about paying. But the reality is that few owners look at the total cost related to insurance, sometimes referred to as total cost of risk (TCOR).
If operators looked more deeply at all of the business components connected to risk, they would see opportunities to control costs more holistically and create safer, more economically sustainable workplaces.
The basics on risk
Essentially, TCOR includes the cost of all insurances as well as deductibles paid, administrative costs and uninsured costs. In reality, the TCOR for most recycling businesses is significantly larger than just their premiums for property-and-casualty and health insurance.
Insurance premiums (the cost of an insurance policy) are based on analytics and predictions of insurance underwriters. Some may call a premium an educated guess as to what losses a given company may have. Historical loss data can, and is, influenced by certain activities that can improve or worsen losses.
When a business owner can calculate a TCOR for one year, the findings often create an incentive to take action to control what's impacting the overall cost. Managing TCOR goes far beyond negotiating a lower premium at the time of renewal. It also includes programs and activities geared toward lowering the potential for loss.
Choosing the right insurance program
Without question, one of the key components of managing costs in relation to risk is choosing insurance policies that fit the business in question. For a recycling operator, a policy can come with a number of different possibilities. Step one is simply understanding the landscape.
Even though cost management is important for insurance premiums, it's more important to ensure proper coverage is in place. An inexpensive insurance policy that excludes certain losses that are likely is shortsighted and will ultimately increase TCOR when an uninsured loss occurs. It's critical that a careful review of coverages be conducted each renewal period to assess changes that may impact the business.
Of course, business owners will still want to keep insurance premium costs as minimal as possible. Managing insurance deductibles is one method of managing premium. Generally speaking, lower deductibles will create a higher premium. Companies with solid loss analytics and appropriate loss prevention programs in place may consider higher deductibles or partial self-insurance.
Another area that needs attention is whether to purchase business interruption insurance, which is typically attached to a property or equipment policy. If a disaster closes or damages a business, this type of coverage pays out normal profits that would have been generated had the disaster not occurred. The value of such a policy can only be determined by crunching profitability numbers, yet it's surprising how many policies are renewed year after year without a business income worksheet being completed. Skipping this step may be the difference between survival or failure of a business in the event of a large loss.
Environmental/pollution insurance is in place with the majority of recycling companies. It's important to note that virtually all general liability policies exclude pollution losses. Coverage details of pollution policies vary significantly between carriers. This coverage requires an insurance broker who truly understands your operations and policy coverages to ensure the protection is appropriate. It's very common for recycling companies to have pollution insurance policies in force that don't adequately protect their most significant pollution-related loss exposure.
Another niche area worth exploring is cyber liability insurance. This is the fastest-growing business insurance policy type, which isn't surprising given the fact that each week news stories are published about well-known businesses being hacked, experiencing cyber extortion or falling victim to some type of cyber attack. What most of us don't see are the hundreds of middle-market businesses that also receive cyber attacks. Cyber liability is another insurance policy that varies significantly between carriers. The knowledge of the broker and carrier is critical to creating the most appropriate coverage plan.
Finally, trade credit insurance is a valuable type of coverage for businesses that extend credit to customers and a risk for non-payment exists. This coverage will provide payment to the insured when a customer doesn't meet a payment obligation. Additionally, insurance companies providing this coverage will often also be able to evaluate a customer's credit worthiness and even increase the line of credit available.
Looking through risk management lenses
Risk management has been described as a bridge between insurance and safety management. In reality, risk management includes both of those realms and also extends to other areas. It includes a focus on coverage, contracts and safety and health management. A proper risk management focus will evaluate these areas and ensure they are working together.
The paragraphs above delved into the specifics of insurance coverage. Now let's look at how a recycling operation can take charge of risk management in safety and wellness.
Maintaining a safe workplace is a duty of an employer – just ask OSHA. While safety procedures are primarily driven by a basic desire to protect human life, safety can also be seen as an investment that provides excellent ROI through prevention of losses, production improvements and boosted employee morale. Many credible studies have shown that every dollar spent by an insurance carrier on a worker injury will cost the employer between $1 and $4 in uninsured/indirect costs. Conversely, studies have shown that safety training of supervisors and employees creates a 4:1 ROI.
There are many key areas related to safety that a plastics recycling company will need to address, including:
Written safety policies
New employee safety orientation
Supervisor safety training
Employee safety training
Lock-out programs
Personal protective equipment
Ergonomics improvements
Industrial hygiene (air quality/noise)
Wellness, meanwhile, is a fast-growing area related to health insurance. Wellness programs vary by company but often include communications and activities that address smoking cessation, nutrition, preventive medical and related areas.
Effective wellness programs are customized for a company based on evaluating the aggregate health and wellness of the employee population. This is accomplished by conducting employee health screenings and interpreting the aggregate wellness of the employee population. This can be done effectively while still maintaining privacy issues for the employees. The result is a wellness program that addresses the primary health issues of the workforce.
Integration of wellness programs with safety management programs is becoming the most effective means to manage TCOR for businesses. Such integration requires additional effort and strategic planning, but the cost savings and gain to employee health and productivity can be staggering.
Most recycling companies don't have a full-time safety director or wellness manager. The reality is that these responsibilities are shared between human resources, the plant manager, supervisors and others. The challenge here is that safety and wellness typically becomes a secondary duty and the expertise is often limited. For this reason, it's important to partner with an insurance broker and carrier that can provide coordinated safety/wellness consulting resources.
From risk to ROI
As the old adage goes, there will always be death and taxes. For the owners of most recycling operations, insurance premiums can be added to the short list of inevitabilities. But business owners can control their insurance premiums and TCOR.
Doing so requires knowledge, commitment and a strategy. However, the ROI on a well-run program can be very significant. Depending on a company's profit margin, a dollar saved can translate into as much $15 earned.
Experiencing that kind of bottom-line action will make paying the monthly insurance a bit less painful.
John Schumacher, CSP, CLCS, is an insurance broker with Assurance Agency in Schaumburg, Ill. and a Certified Safety Professional accredited through the Board of Certified Safety Professionals. He can be contacted at 847-463-7224 or [email protected].