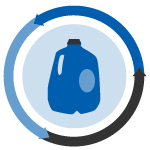 A drugstore chain in British Columbia is ramping up its plastic film recycling efforts, and the Institute of Scrap Recycling Industries alters some recovered plastics specifications.
Plastic film recycling program: London Drugs, a pharmacy chain in Vancouver, British Columbia, is now offering plastic bag, plastic wrap and foam packaging recycling at 11 of its locations. The one-year pilot project with Multi-Material BC will explore whether similar collection efforts can be offered in other parts of the province.
Cost of closures: More than 300 California redemption centers have closed in the past year, which, according to KPCC, is leaving a mark on the state's homeless population. Many of those individuals earn money by recycling bottles and cans and are now finding that path to be even more difficult.
ISRI additions: The Institute of Scrap Recycling Industries has made changes to its Scrap Specifications Circular. It has approved a new specification for auto bumpers as well as amended electronics plastics specifications. The circular is a guide for buyers and sellers of materials.
Plastic decking market on the rise: A new report on the plastic decking market shows the market size is estimated to grow to $4.69 billion by 2021. The report by MarketsandMarkets says the market was worth $2.55 billion in 2015.