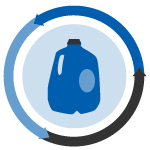 A recycling program in Virginia expands its plastics scope, and a materials recovery facility in Ontario pushes back against bags and PS.
No more plastic bags or polystyrene: A materials recovery facility, operated by The Ottawa Valley Waste Recovery Centre in Ontario, will stop accepting certain plastics, specifically polystyrene and film plastic. According to the Daily Observer, officials say the revenue received from selling polystyrene and plastic grocery bags is less than the cost to manage it.
All containers accepted: Residents in Central Virginia are now able to recycle more items curbside. The Central Virginia Waste Management Authority now accepts all plastic containers and waxy paper containers. It used to only accept PET and HDPE.
Grant to improve rural recycling: The U.S. Department of Agriculture has awarded a grant to the Northeast Resource Recovery Association, a nonprofit organization that assists cities and businesses with their recycling programs. The money will be used to improve composting and plastic film recycling, specifically LDPE, in rural areas.
Illegal bottle return: A Michigan man has been accused of trying to return more than 10,000 non-redeemable bottles. The Livingston Daily says the bottles were collected in Kentucky and weren't eligible for redemption in Michigan. The man faces five years in prison.
Cleaning up the ocean: A foundation in the Netherlands has launched a barrier into the North Sea designed to catch plastics and debris in the water. The prototype will be in the water for a year so scientists can test its durability in a storm, according to Waste Management World.
Ban on bans: On July 1, a law went into effect in Idaho preventing cities and other local governments from banning plastic bags, takeout boxes or any other such containers. Magicvalley.com reports no bans are in place in the state.
Car seat recycling: A safety coordinator at a hospital in Portland, Ore. has started a car seat recycling program. The Portland Tribune says the hospital and other local businesses accept the seats, although they must be stripped down to just the single-resin shell.