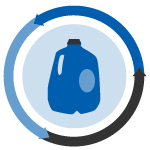 A label manufacturer releases a line geared toward recyclability, and a Canadian polystyrene recycling company is set to expand thanks to significant outside investment.
PS recycling investment: Montreal-based Polystyvert announced it has received investor financing worth 4.9 million Canadian dollars ($3.8 million). The company collects and recycles polystyrene material in Quebec, and the investment capital will be used to scale up facilities and equipment.
Recycling-friendly labels: Avery Dennison has introduced a pressure-sensitive label for plastic containers that is easily removable and recyclable, according to Labels & Labeling. The offerings include paper and film facestocks that are more compatible with the process of recycling PET materials.
(Not a) wall of garbage: Many in the online world, including Mashable, are poking fun at presumptive Republican presidential candidate Donald Trump for speaking in front of what pundits are calling a "wall of garbage." It was, in fact, not garbage but baled recyclable materials. The Daily Show even called it a "wall of garbage" in a segment fact-checking his speech.
Preventing contamination: Officials in South Carolina's Charleston County are trying to prevent contaminants in the recycling stream with educational outreach. Currently, the local sorting facility gets shut down two or three times a day because of a contaminated item, according to the Post and Courier. That leads to costly delays.