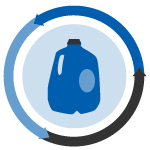 Equipment companies release innovative optical sortation technologies, and the Association of Plastic Recyclers recognizes research improving recyclability.
Recyclability recognition: Floating label adhesives and a process for printing on HDPE containers without ink bleed – those were a couple of the innovations recognized by the Association of Plastic Recyclers (APR) at the group's mid-year meeting in San Antonio. Four companies received critical guidance recognition for their efforts toward improving the recyclability of plastic packaging.
Plastics to waxes: GreenMantra Technologies, which uses a catalyst and patented process to recycle PE and PP into industrial waxes, has signed an exclusive distribution agreement for its products. The Brantford, Ontario-based company is partnering with EMCO Chemical Distributors, which will distribute GreenMantra waxes to customers across the U.S. and Canada. Plastics Recycling Update: Technology Edition featured GreenMantra last month.
Black-plastic sortation: Germany equipment company Steinert has developed an optical sortation unit specializing in separating black plastics by polymer. The new UniSort Blackeye can separate up to one metric ton per hour of black PE, PP, PVC and PS flakes.
Recycled 3-D printer filament: An Amsterdam-based startup company is paying pickers in Africa to recover plastic items so they can be converted into 3-D printer filament. The Huffington Post reports on the innovation from Reflow, which is launching its effort in Dar es Salaam, Tanzania.
Sortation equipment: A study released by the American Chemistry Council explores optical sortation technologies and other types of equipment in materials recovery facilities and mixed-waste facilities. The report, from consulting firm Gershman, Brickner & Bratton, discusses the advantages and limitations of using optical sorters to separate plastics, among other types of equipment.
Flake sortation: The Bühler Group recently unveiled its Sortex E PolyVision optical sorter, which targets PET by removing same-color flakes made of different polymers. The equipment, which utilizes a unique lighting system and high-precision ejectors, reduces contaminants to below 50 parts per million, according to the company.
Mixed fiber-plastic recycling: A U.K. company that recycles single-use coffee cups by separating the fiber from the plastic lining is now doing trials on a recycling approach that doesn't require separation. MRW reports Simply Cups is incorporating a mix of plastic and paper in its process, which was developed by consulting company Nextek and allows a composite material to be molded into products at high speed.
PET fines recycling: Recycling equipment from Ettlinger Kunststoffmaschinen can handle a difficult-to-recycle materials stream: PET fines, according to Motan Colortronic, Ettlinger's new agent in the U.K. and Ireland.