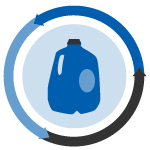 NASA plans to experiment with interstellar plastics recycling, and a town in British Columbia says a fee on bags is successfully deterring residents from using the products.
Recycling plastic in space: NASA has reportedly shelled out $750,000 for a 3-D printer capable of recycling plastic products. Geekwire reports the U.S. space agency is expected to receive the device, which is made by Bothell, Wash.-based Firmamentum, by next year.
Keeping bags out of bins: The Cowichan Valley Region of British Columbia is urging residents to throw out plastic bags instead of trying to recycle them. The community, which is located on Vancouver Island, says it has the highest rate of contamination in the province, with bags being the top contaminant.
Bag fee paying off?: Meanwhile, the town of Whistler, British Columbia believes a nickel fee on plastic grocery bags is helping to reduce overall usage. According to an article in local news magazine Pique, plastic bag usage at Whistler stores is down by 43 percent since the fee went into effect more than a year ago.