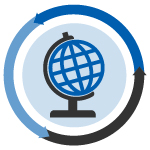 Europe could be in line for more plastics recovery, and China is reportedly weighing the pros and cons of banning imports of waste plastics.
Europe: British Plastics & Rubber reports that the European plastics recycling sector could see growth going forward. According to the publication, the growth will likely be spearheaded by strong and growing demand for recycled plastics as well as increasing awareness surrounding marine debris.
Austria and Germany: The Austrian firm Borealis has announced the acquisition of German plastics recycling company mtm plastics and mtm compact. The acquisition is expected to provide Borealis with increased recycling capacity for post-consumer mixed plastic material. The terms of the deal were not disclosed.
China: Recycling International reports that Chinese officials are considering following the lead of India by banning imports of plastic waste. The Chinese plastics recycling industry is expected to push back against any proposals along those lines.