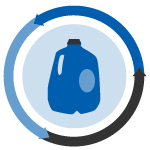 Europe's PET trade group reports on efforts to boost thermoform recycling, and Tomra wins an award in China for its advanced flake sortation technology.
PET thermoforms: Numerous trials are underway in Europe to improve the collection and recycling of PET thermoforms, trade group Petcore Europe reports. A study from the organization's Thermoforms Working Group reports on technology improving the ability to separate single-layer PET thermoforms from multi-layer material as well as the impacts of incorporating thermoforms into PET bottle bales.
Bioplastics from carbon dioxide: A New York company called Novomer is using carbon dioxide captured from manufacturing plants to produce new plastics, and Ford is planning to incorporate the polymers into vehicles in the coming years. Environmental Leader reports the automaker will develop foam and other plastic car components from the bioplastic.
Exploring additives: Compounding World covers a variety of additives that hold promise for improving the physical properties of recycled plastics. The article looks at additives enabling increased recycled content in PVC, improving color in recycled PET and compatibilizing dissimilar polymers.
Carbon fiber recycling: A U.K.-based company recently presented on its efforts to recycle carbon fiber materials into new vehicle parts, according to Composites Manufacturing. ELG Carbon Fibre presented at the Global Automotive Lightweight Materials European conference, held in Birmingham, U.K.
Sortation equipment award: Tomra Sorting Recycling has won a prestigious Chinese award for its Autosort Flake equipment, which can simultaneously separate three categories of materials: metals, polymers and various non-transparent colored materials, including stones, ceramics and glass. The company won a 2016 Ringier Technology Innovation Award in the plastics recycling machinery category.
Recycling equipment: Equipment manufacturer Herbold Meckesheim presented its plastics washing, separating and drying technology at IFAT 2016 in Munich. Among other equipment to be displayed is the HGM wet shredder, which simultaneously shreds in-feed material while washing it with water and is ideal for highly contaminated materials such as agricultural film.
Equipment sale: Equipment company Bollegraaf Recycling Solutions has installed an advanced plastics recycling line at Netherlands-based plastics reclaimer Daly Plastics. The modular, fully automated system produces about 7 metric tons of separated plastics every hour.
News
,
Technology Edition
,
Technology roundup
Tagged
Asia
,
awards
,
equipment
,
Europe
,
PET
,
PVC
,
sortation
,
technology
,
thermoforms
Leave a reply