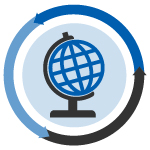 China's appetite for rPET fuels infrastructure in Pakistan, and Taiwan continues to propel recovery of a wide range of material.
China: China's growing demand for recovered PET has led one Pakistani recycling company to quadruple its processing capacity. According to Plastics News, Shazil Pakistan completed an expansion of its facility in January that will enable it to produce roughly 50,000 metric tons of PET flake per year. About 90 percent of Shazi's material ends up being exported to China.
Europe: A trade group in Europe thinks the plastic pipe industry could recycle as much as 250,000 metric tons of piping annually by 2020. The European Plastic Pipes and Fittings Association is lobbying the European Union to regard pipes with additives or "legacy substances" as non-hazardous in order to create further recovery opportunities.
Taiwan: In a recent article, The Wall Street Journal praises Taiwan as an "international poster child for recycling." The nation of 23.5 million people has been able to achieve a recycling rate of 55 percent, with an extensive plastic-packaging recovery infrastructure that's primarily funded by manufacturers.