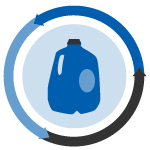 Get an inside look at how the music industry is combating plastic waste at concerts, and hear about the details on a recently unveiled set of standards for recovering e-plastics.
Rocking a reduction: Rolling Stone covers efforts by musicians and venues to reduce the use of single-use plastic cups and utensils at major concerts. Jack Johnson and numerous other musicians are taking steps to reduce or eliminate single-use plastic items at their live shows.
National study: The Recycling Partnership has announced it will be studying curbside recycling across the U.S. on behalf of the U.S. EPA. The effort, which is expected to include data on 400 curbside programs, will result in a full report in October, including an analysis of 39 recyclable materials.
E-plastic specs: The Institute of Scrap Recycling Industries has finalized a series of changes to its specifications for plastics recovered from scrap electronics. The recovery of e-plastics is a growing focus for some companies in the industry, including the Canadian firm FCM, which recently opened an e-plastics processing plant in Ontario.
Labor law: Government regulators have cracked down on an Orange County, Calif. recycling company, alleging it cheated its employees out of pay they were owed, according to The Orange County Register. Sanchez Recycling, in the Los Angeles area, was ordered to pay $113,000 in back wages and damages.