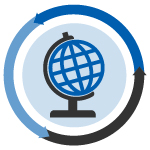 A container deposit system is set to be introduced in Australia's most populous state, and Pepsi develops a game to get kids in Poland excited about water bottle recycling.
Australia: New South Wales has become the third Australian state to pass container deposit legislation. Starting in July 2017, the state of roughly 7.5 million people will attach a deposit of 10 Australian cents on most drink containers, including plastic bottles.
Australia: Environex, a company on the Australian island state of Tasmania, is collecting PE-based wrap used by farmers and converting it into 100 percent recycled fence posts, Plastics News reports. In some cases, Australian farmers that provided ag plastics for recycling are buying the fence posts made from the material.
Poland: Pepsico Poland has released an inventive smartphone game aimed at encouraging children to recycle plastic water bottles. Creativity magazine notes players crush and squeeze an empty plastic bottle over the screen to successfully aid a digital hippo in disposing bottles.