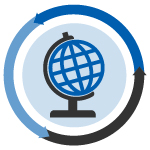 A U.K. grocery chain will accept plastic Easter eggs for recycling, and some Iraqi children who fled violence now survive by scavenging plastics from landfills.
Edible cutlery: An Indian company was recently featured on the website of The Better India for its edible cutlery, which is marketed as an environmentally friendly alternative to disposable plastic cutlery. The company, BAKEYS, was founded in 2010 and makes its "delicious" cutlery out of millet, rice and wheat.
Easter egg recycling: A U.K. supermarket chain will collect plastic Easter eggs for recycling at 400 of its largest locations, reports British Plastics and Rubber. Through April 12, Sainsbury's stores will collect the rigid plastic eggs, as well as paper Easter egg packaging.
Scavenging for survival: After fleeing the Islamic State group, many northern Iraqi children are scavenging recyclable materialsfrom a landfill near the Kurdish city of Irbil, Iraq. Aljazeera.com reports on the lack of options for these children, who make between $9 and $27 a day selling plastic and metal to recycling companies, with one company paying $90 for a metric ton of plastic.
Cairo's collectors: An elaborate mural covering more than 50 buildings offers unique recognition to Cairo's recycling scavengers, The New York Times reports. Visible in its entirely only from one vantage point on a hill, the mural was painted by a Tunisian-French artist and his friends, who worked to complete the work without drawing attention from the government.