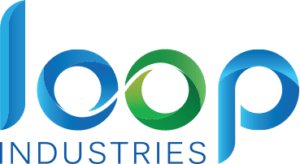 Without using heat or pressure, a small commercial-sized facility in Quebec is breaking down post-consumer PET into its component monomers so they can be recycled into new PET.
The recycling method employed by Loop Industries, which received a U.S. patent in January, is "definitely a game-changing technology in this industry," Daniel Solomita, company founder, president and CEO, told Plastics Recycling Update: Technology Edition.
"This is the way of the future because we can keep costs low, and quality is unparalleled," Solomita said. "There's no traditional recyclers that can make a PET pellet or resin with the same quality."
The publicly traded company's 6,000-square-foot facility currently produces up to 5,000 pounds of purified terephthalic acid (PTA) and ethylene glycol (EG), the building blocks of PET, each day. The PET made from the monomers by Loop is suitable for food packaging, and would be exempt from U.S. Food and Drug Administration review, he said.
Ultimately, the company aims to sell the PTA and EG to plastics makers instead of making the plastic itself.
"You can bring it back to its base monomers and do anything you want with it," he said. "I can take a carpet and turn it into food-grade plastic."
The Loop Industries recycling process unfolds in the following way:
Mixed plastics are shredded before they are placed into a chamber, into which a unique solvent solution is poured before the mixture is agitated. After the solvents depolymerize the PET, the slurry is sent through traditional separation technologies, including centrifuges, vacuum filters and membrane filtration. These processes remove contaminants from the PTA and EG. Solomita also noted that 95 percent of the solvents can be recovered and reused in the reactor.
"Once the initial depolymerization happens in the first reactor, which breaks down the plastic, everything after that is just simple separation technologies," he said.
The process takes place at room temperature and at atmospheric pressure, making the technology cheaper and more effective than other depolymerization approaches, he said. The three other industrial-scale approaches, hydrolysis, glycolysis and methanolysis, all use heat and pressure in the depolymerization of PET, adding to energy and equipment costs.
In addition, other depolymerization methods require cleaner feedstocks because their high temperatures melt different resins together, according to Solomita.
Loop Industries' process allows for the recycling of PET in contaminated bales as well as PETG, PET thermoforms and fines. Because of their small size and added surface area, PET fines break down quickly and are ideal for the process, Solomita said. Loop Industries recently acquired around 2 million pounds of mixed PET-PVC fines from St. Louis-headquartered QRS Recycling, an operator of materials recovery facilities and plastics recovery facilities.
Loop Industries is in discussions with major PET producers, seeking to partner with them to provide the recycled PET to major brands, Solomita said. Even with low petroleum-derived PTA and EG prices, Loop Industries is competitive, he said.
"The quality is the same, the price is the same and you have the sustainability advantage that goes along with it," Solomita said.
Loop Industries plans to upgrade its Montreal facility to boost its output capabilities. It's also researching using the "no heat, no pressure" approach on resins beyond PET.