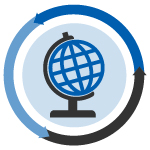 An international metals recycling company jumps into the PET recycling business, and Scotland mulls a beverage container deposit program.
An ambitious effort to clean plastics from the Pacific Ocean so they can be recycled will be tested near a Japanese island this year. The Telegraph features the effort by a 21-year-old Dutch entrepreneur to anchor a large boom array in the ocean and use wind, waves and currents to catch floating plastic.
International lead and aluminum recycling company Gravita has jumped into the plastics recycling business, according to The Hindu Business Line. Gravita India said a subsidiary, Gravita Nicaragua, has begun PET recycling in the Central American country, with a capacity of nearly 4,000 tons per year.
The Scottish government plans to take a closer look at possibly implementing a beverage container deposit program, according to letsrecycle.com. Environment Secretary Richard Lochhead said that retailer costs and the implications for small shops need further consideration before a decision is reached on the issue.