This story has been updated.
When iFixit went looking for an eastern U.S. site to set up a new logistics/distribution facility, it didn't feel right to build a facility from the ground up. After all, the company's ethos is repair, CEO Kyle Wiens said.
So company leaders found a fixer-upper in Chattanooga, Tenn. – and the necessary work goes way beyond slapping a new coat of paint on the old warehouse. 
"Our current repair is a big repair," Wiens said in a recent interview with E-Scrap News. 
Based in San Luis Obispo, Calif. and with 150 employees globally, iFixit provides consumers and small businesses with the tools, parts and information necessary to repair consumer electronics. One of the founders, Wiens, has been among the most outspoken proponents of right-to-repair laws, which have now been codified in multiple states, overcoming years of electronics manufacturer opposition. 
As the repair movement takes off and the demand for repair resources increases, iFixit has become short of space. Some of that demand is driven by partnerships with manufacturers, who are working to set up strategies for getting repair tools and parts to consumers in compliance with state right-to-repair laws. 
"As we're partnering with more and more manufacturers, we are totally bursting at the seams at our existing warehouse space," Wiens said. 
He and Elizabeth Chamberlain, director of sustainability at iFixit, talked about plans for the new 70,000-square-foot warehouse near downtown Chattanooga. The company is investing to transform a dilapidated produce building into a cutting edge, low-impact development in a neighborhood that needs some love.
A major investment
The company has its main facility and an auxiliary facility in San Luis Obispo, as well as a warehouse in Stuttgart, Germany, and facilities run by fulfillment partners in Toronto and Sydney.
"The footprint of who is trying to fix things is broad, so the logistics have to also be pretty broad," he said. 
Chamberlain noted that batteries can only be shipped to customers via ground, not air, which means iFixit isn't able to guarantee deliveries shorter than five days to East Coast customers.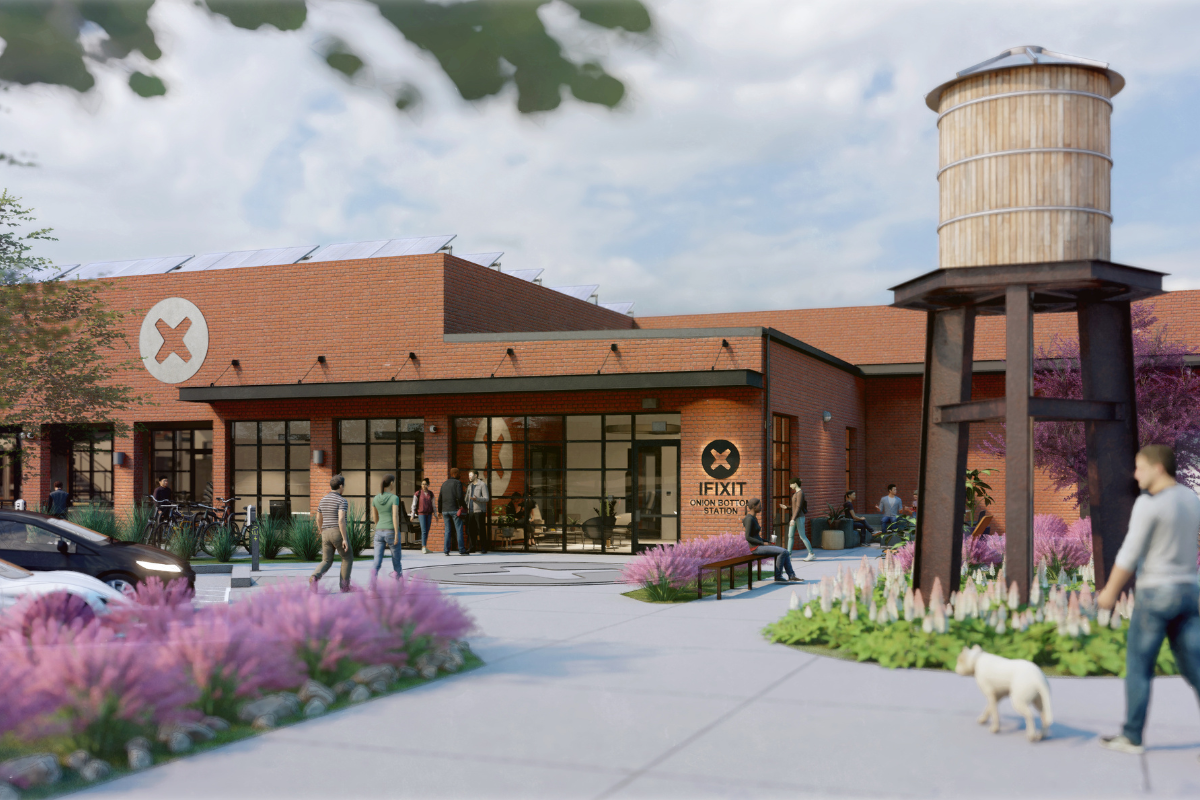 Having a distribution hub in Chattanooga will cut that down to a two to three days delivery time for East Coast customers, she said. 
The building, itself, is a former Dixie Produce Building that has been vacant for some time. The land and building were purchased by a company owned by iFixit in July 2022 for $3.6 million, according to Hamilton County, Tenn. property records.
Wiens said the company wanted something it could repair. Work began early this year. 
The long-vacant structure's roof was rusting and leaking and had to be replaced. The structure was even relying on a rope to earthquake-proof a roof beam, he said. 
The company is planning some notable features. First, because the electricity grid in the region uses coal power, iFixit is planning to cover the roof with solar panels. But the panels weren't expected to supply enough energy for 100% of the building's needs as long as the building used a traditional HVAC system. So iFixit is digging a series of 400-foot-deep geothermal wells tied into a variable refrigerant temperature (VRT) system to provide energy-efficient heating and cooling for the building, Wiens said. With the 16 wells, the expectation is the panels will be able to provide all the necessary power. 
Additionally, iFixit is investing in a rainwater collection system, complete with a water tower. 
The Chattanoogan newspaper reported iFixit's total investment over five years will total over $24 million. 
Wiens said the solar system and roofing costs total $1.5 million, and the HVAC and geothermal system will total $2.25 million.
Wiens said the larger goal of the project is to contribute to the restoration of that neighborhood in Chattanooga. The facility is in the city's Onion Bottom area, located in one of the state's Qualified Opportunity Zones.
Initially, iFixit will occupy about 50,000 square feet of the building, and later it will look to add the other 20,000 square feet. All told, iFixit estimates the facility will create around 200 jobs. 
The goal is to open it in the third quarter of 2024. 
This story has been updated with additional details on project costs.
More stories about refurbishment/reuse