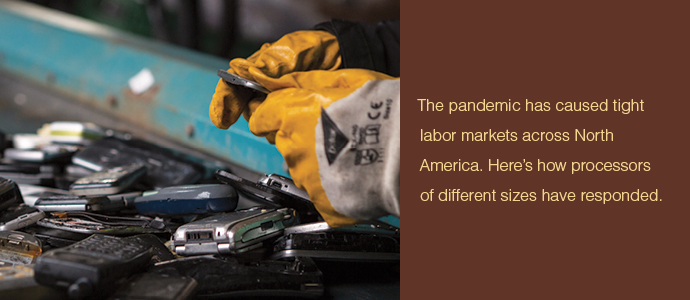 This article originally appeared in the Fall 2021 issue of E-Scrap News. Subscribe today for access to all print content.
After COVID-19 struck, Integrated Recycling Technologies (IRT) found itself entering an unexpected business: daycare.
But through the spring and summer of 2021, as labor markets challenged e-scrap companies' ability to hire and retain reliable employees, IRT's daycare perk proved to be a big plus.
"The benefit and the reduction of stress in the employees that are using it is big," said Steve Budd, president and CEO of the St. Cloud, Minn.-based electronics recycling company. "It's worth it. It's so worth it."
As the e-scrap sector struggles to navigate difficult labor conditions, recycling and reuse companies across North America have rolled out ideas to overcome the pervasive challenge. They include bumping pay, offering signing bonuses, holding job fairs, and more.
Higher pay and child's play
IRT's example is among the most innovative – and intensive – step taken to support employees.
Budd said that when COVID-19 impacts struck the U.S. around March 2020, the first thing the company did was increase its starting wages. "We wanted to accommodate the market demands and maintain that competitive edge," he said.
Additionally, IRT's human resources team ramped up its recruitment strategy, selling IRT as having a friendly, fun work environment. IRT opened an on-site gym for employees.
But amid increasingly strict regulations as the pandemic worsened, IRT employees were getting calls at work from their daycares asking them to pick up their kids immediately, Budd said. So IRT worked to open a 5,000-square-foot, fully licensed daycare in office space on the processor's property.
Because of strict daycare licensing requirements in Minnesota, the endeavor went over budget and took several months, opening around November 2020, he said. Half of the children are from employees, who are only charged $100 a week, and half are from the general public, who pay market rates. The daycare, which is anticipated to remain permanently, is breaking even financially, Budd said.
But the benefit to employees has been immense.
"I think that's been the biggest stress relief on all of the employees," he said.
Still, challenges remain. The company currently has around 80 employees, and it's always looking for a handful more, Budd said. A few months ago, IRT learned that Amazon was bringing a facility to St. Cloud, so IRT did another wage increase to stay competitive with Amazon's wages, he said. The company also started an employee referral program, which has been successful.
The experience in Canada
North of the border, Mississauga, Ontario-based eCycle Solutions has also encountered large workforce challenges. The electronics recycling and reuse company has facilities in Alberta, British Columbia, Ontario and Quebec, and all have struggled to fill their open positions.
"Across the provinces we're operating in, the challenge is definitely bringing in new talent," said Kulvir Bains, vice president of human resources for eCycle Solutions. In August of this year, the company had about 30 unfilled positions in Ontario, over a dozen in Quebec and lesser numbers at the smaller plants.
An employee referral program has been a tool in eCycle Solutions' HR toolbox for some time. The processor has also bumped pay, offered bonuses, held its own job fairs, run employee-recognition programs, and more.
"It's almost like you try something and you cross your fingers and knock on wood," Bains said. "You think you're being creative and the first kid on the block with this new idea, and everyone's doing it."
Bains said that in 2020, there was an exodus of employees, with some able to make more money by not working and collecting public assistance. The Canadian government's COVID-19 assistance has tightened and was set to end this fall. "You do [see] some folks that would still rather ride those out to the end," but the number is dwindling, she said.
Scott Loughran, vice president of operations for eCycle Solutions, also noted that the company's largest facility, in Mississauga (a suburb of Toronto), competes with employers such as Amazon, Wayfair and other warehouse-based businesses.
Bains said she thinks eCycle Solutions may be on the verge of losing folks to higher-wage jobs, so the company is now exploring retention bonuses as a strategy to keep them from being lured away.
Ups and downs in pay raises
Robin Ingenthron, founder and CEO of Good Point Recycling, knows all about losing employees to higher-paying jobs. The company, which has recycling facilities in Vermont and Massachusetts, boosted its pay in both locations in July of 2021 after losing five staff members to jobs paying $21 to $28 an hour in booming construction and trucking markets, Ingenthron noted.
Good Point Recycling's Vermont full-time starting wages now meet the Green Mountain State's living wage, and the Massachusetts pay is close, Ingenthron stated. But even after the starting pay bump of $2 an hour, one of his employees applied for a job hauling fuel – the employee was looking at $36 an hour and a $10,000 sign-on bonus.
Ingenthron said the pay raises put his company on track for tens of thousands of dollars in losses this year. That being said, he's trying to be enthusiastic about paying more money to the people who actually do the work of recycling.
"After two decades of seeing consultants and OEM environmental advocates and NGOs and executives make more money talking about recycling than my staff makes carrying the stuff around, it's exciting to issue the raises that we just released last month," he said.
But he's also frustrated that OEMs, which enjoyed a record year last year, "keep looking for cheaper rates when they know perfectly well what the employment situation is for employees at a place like Good Point," he said. According to the Consumer Technology Association, shipments of TVs and laptops, both for enterprises and consumers, reached record numbers in 2020.
Pay increases of $2 an hour and hiring bonuses of $1,500 are tactics Universal Recycling Technologies (URT) has tried, said Ken Thomas, president of URT. But those weren't a silver bullet for the company, which has plants in New Hampshire, Oregon, Texas and Wisconsin.
Even after the pay bump and bonuses, URT found it had to hire 50 people for the Fort Worth plant just to get four of them to stick around to fill four open positions. "It's insane," Thomas said.
When COVID-19 reduced e-scrap volumes, URT was forced to lay off about half of the staff, Thomas said. Now, the challenge is responding to returning volumes.
"Our issue is not losing employees that have been here for a year or more. It's our need to ramp up," he said.
As to the cause, Thomas said he's "agnostic," although he noted that URT was talking about pay increases in January 2020, before the virus altered life in North America. And he pointed to examples of losing employees to better-paying jobs: URT hired a Texas employee for $17 an hour, only to have him quit after two days to take an $18-an-hour job at an Ace Hardware store.
Drivers have been a particular challenge, Thomas said. Among URT's competition is Quiktrip, a chain of Midwest gas stations/convenience stores offering $60,000 a year and $15,000 sign-on bonuses, he noted.
In response to the challenges, URT is among the companies looking toward automation to help reduce staffing requirements. That's less the case for shredding and separation lines, which are already highly automated, and more about moving material around the facility, Thomas said.
In July, URT paid $1,500 bonuses to employees who have been with the company over the past year. Thomas said he didn't think it's fair to offer bonuses for new hires but not reward the people who have stuck by the processor.
Mission-driven advantage
Different corners of the electronics recycling and reuse industry are feeling the same employment pressure, but some enjoy built-in advantages when it comes to attracting talent.
"Labor markets are definitely tight," said Stephen Wakeling, CEO of Phobio, an Atlanta-based company that runs mobile device trade-in programs. "Prospective team members have a lot of options, and like many companies, we're trying to present job seekers with as much incentive to join the team as we can."
As for the cause of the challenges, Wakeling thinks many employees stayed in jobs longer than they would have liked over the past year because of general insecurity about the future.
"Now that much of that insecurity has passed, many people have itchy feet and are ready to take the next step," he said.
Wakeling emphasized the importance of offering flexible work schedules. Over the past year, many office workers came to enjoy working from home and aren't keen to return to offices.
"I believe it's incumbent on all employers to do what they can to retain people with flexibility and greater empowerment to live the lives they want to live," he said. "That has become an important part of overall compensation.en Wakeling, Phobio
Other processors, particularly those strongly aligned with social and environmental missions, have some natural advantages.
Los Angeles-based Homeboy Electronics Recycling is a for-profit social enterprise that's owned by the nonprofit group Homeboy Industries, which provides job training and opportunities for people with gang and prison histories. The electronics recycling operation offers trainee positions – mostly in device dismantling and warehousing – for people nearing graduation from the nonprofit's programs. Those trainees may get hired on full time.
In that way, the ownership connection provides a pipeline of potential employees, particularly on the recycling side, said Chris Zwicke, CEO of Homeboy Electronics Recycling. That being said, Homeboy Electronics Recycling recently moved into a larger space and is finding it difficult to fully staff up. The processor has more trouble filling the more technical, higher-skill jobs, he said.
Using automation to eliminate jobs isn't in the cards. "Because of our social mission for job creation, we want more labor," Zwicke said.
Homeboy Electronics Recycling has already been boosting its wages in recent years. Los Angeles has had an aggressive minimum wage, and his company has exceeded it.
Meanwhile, Sage Sustainable Electronics, a reuse-focused processor, established an internal minimum wage of $15 an hour two years ago, said Bob Houghton, co-founder of Sage.
Yet the company finds that candidates – particularly younger ones – are drawn to Sage's credo of making the world more sustainable by extending the lives of electronics.
"Being a mission-driven company is something that a lot of people are attracted to," Houghton said.
That being said, the company is hardly immune to labor challenges, particularly as it works to expand and grow its staffing levels. Sage has over 200 employees today. By the end of September, the company plans to hire 50 more people.
Sage has locations in Ohio and Nevada. Company leaders have seen fewer job applications from Nevada, which retained federal unemployment benefits through the summer, than from Ohio, which ended them earlier, Houghton said.
In February, Sage opened a 40,000-square-foot Sage Technology Solutions Center for managing integration and configuration service orders, and supporting deployments and redeployments of new and refurbished technology. Those services have been in strong demand with employees working from home during the pandemic, Houghton noted.
That Columbus, Ohio facility has helped expand the scope of job descriptions Sage has available, he said, although the company is seeking more advanced technicians for every part of the business.
Unlike Homeboy, Sage is finding the higher-skilled positions easier to fill because they don't compete with the e-commerce fulfillment centers, Houghton said. The hardest position to fill was probably forklift drivers, he said.
To help with recruitment, the company recently made a "significant investment" in a highly experienced HR director, Houghton said. Ultimately, Sage's goal is to have fewer employees per process but pay them more.
"We really do want to have people stay with Sage for a long, long time," he said.
Jared Paben is the associate editor of E-Scrap News and can be contacted at [email protected].
This article originally appeared in the Fall 2021 issue of E-Scrap News. Subscribe today for access to all print content.