Business opportunities before and amid COVID-19 have helped drive capacity growth at reuse-focused Sage Sustainable Electronics.
This year, the ITAD company doubled the size of its Columbus, Ohio headquarters location. It also moved into a sprawling former Arrow Electronics plant near Reno, Nev., quadrupling Sage's West Coast square footage.
"We are becoming a major force for sustainability," Jill Vaské, co-founder and president of Sage, noted. "We're beating our growth projections for 2020 and plan to open another repurposing center in 2021."
Sage has seen a number of facility changes over its six years. Launched in 2014 with financing from Hugo Neu Corporation, Sage began with plants in Baltimore, Columbus and Reno. In 2015, Sage took over e-scrap processor Hugo Neu Recycling from Hugo Neu Corporation. In 2016, Sage closed Hugo Neu's shredding-oriented operation in Mount Vernon, N.Y. and moved Hugo Neu's headquarters from Kearney, N.J. to Sage's existing facility in Baltimore.
Vaské said Sage's five-year lease for the Baltimore facility was up in April 2020. The end of that lease coincided with the tremendous business uncertainty brought on by COVID-19, she said. As a result, Sage decided not to renew the lease and to consolidate the business into the Columbus plant.
Meanwhile, out west, the lease for Sage's Reno facility was set to expire in March 2020. The end of that lease coincided with a growth in customers as a result of Arrow Electronics exiting the ITAD business last year, Vaské said. So Sage signed a three-year lease for a sprawling space that had been Arrow's in Sparks, Nev., near Reno. That 140,000-square-foot facility, which Sage occupied starting in March, is four times the size of Sage's previous Reno location and provides room for growth, Vaské said.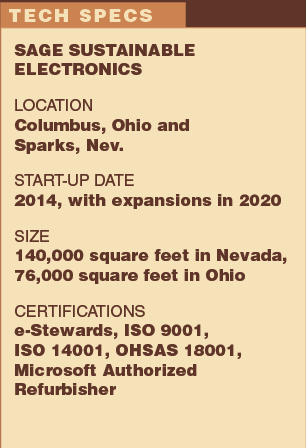 Meanwhile, Sage recently began leasing another 38,000 square feet adjacent to its Columbus facility, bringing that location to 76,000 square feet.
As a result of the changes, despite having fewer facilities than it did last year, Sage's capacity is now greater, Vaské said.
Arrow's decision to shut down its ITAD business generated new customers for Sage last year, although many of them weren't new to Sage's leadership, Vaské said. In 1998, Vaské and Sage co-founder Bob Houghton started a company called Redemtech, which was acquired by Arrow in 2012. When Arrow decided to shut down the ITAD business, "the service provisioning stopped abruptly and left a lot of customers hanging," Vaské said. "We were able to rekindle a lot of old relationships with customers that used to be Redemtech customers."
Reconnecting with former customers because Arrow left the business created "a nice windfall for us last year," she said, keeping Sage busy through the fall and into winter.
Additionally, Sage has been able to sustain business during the COVID-19 shutdowns. As was the case with many ITAD and e-scrap recycling companies, inbound volumes plummeted after business and institution shutdowns went into effect.
But Sage's range of fee-based offerings helped maintain business and offset the impacts of a dip in asset refresh activity, Vaské said. Those other services include asset redeployments, donations management, storage for contingent inventory, and more. Facing constrained supplies of new electronics, Sage's customers went "full bore" redeploying their used electronics within the company to help equip their employees working from home, Vaské said.
"That was a key growth area for us – the redeployment," she said.
Meanwhile, demand for used equipment has remained hot. "The demand for the products that we do get is … extraordinarily strong right now," she said.
Seeing the need for additional processing capacity, Sage is looking to open a third processing facility – and possibly a fourth, depending on how the COVID-19 recovery goes, Vaské said. In deciding where to site plants, the company examines where its current customers face the longest shipping distances to send their equipment to a Sage repurposing center, she said. That being said, Sage will likely open its next facility in 2021 in the southeastern U.S., according to Vaské.
This article originally appeared in the Winter 2021 issue of E-Scrap News. Subscribe today for access to all print content.
Do you know of a processing company that should be featured in this column? Email [email protected]