Sycamore International's roots were in serving the IT asset management needs of K-12 schools and universities/colleges, but the company has since branched out to service other sectors, including enterprises and health care.
As the Pennsylvania processor has grown, it hasn't lost its flexible customer-service approach, which stems from its history serving the extremely diverse education market, company CEO Steve Figgatt explained.
"Formed from the ground up, Sycamore developed by approaching varied client projects as opportunities to target inefficiencies and what clients most dislike about recycling technology," Figgatt said. "In answer, Sycamore develops customized solutions for each organization served, and emphasizes polite, professional and diligent service, in addition to the highest data security and environmental stewardship standards."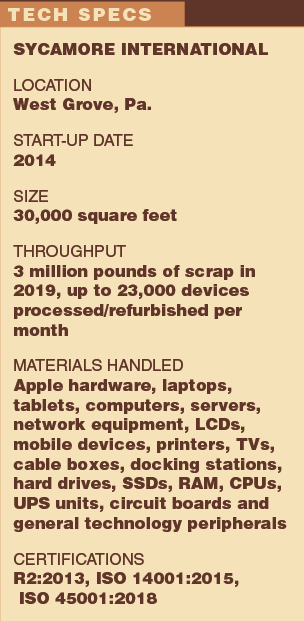 The company works out of a 30,000-square-foot facility in West Grove, which is about 40 miles west of Philadelphia and is about a 2.5-hour drive to New York City. Sycamore's facility first opened in 2014. Last year, Sycamore expanded its parking lot, built an addition to the building, and renovated the interior.
All devices with data that come into the building are run through a data-destruction process. For physical destruction of hard drives and solid state drives, the company uses an Ameri-Shred shredder.
Sycamore staff manually sort incoming electronics into the refurbishment or recycling streams.
After data is wiped, reusable electronics are refurbished and resold into domestic and international markets. Electronics that Sycamore sells include the following: Apple notebooks, iPads, iMacs; Chromebooks; Dell, HP and Lenovo notebook and desktop PCs; all-in-one PCs; PC components such as RAM, CPUs, processed HDDs, processed SSDs; and peripherals such as keyboards, mice, power cords and AC adapters.
Sycamore has also donated refurbished equipment to various community groups, special education programs and local high school programs.
In addition, the company's technicians repair iPads, Chromebooks and laptops on behalf of insurance companies and other large-volume clients.
Sycamore International is planning to boost its refurbishment capabilities this year, Figgatt said. Sycamore's capacity was about 23,000 devices per month during the first quarter of this year, although the number typically varies between about 18,000 and 23,000. Figgatt said that, by the end of September, he wants to scale that up to over 28,000 devices per month.
In terms of end-of-life equipment, after data is wiped, Sycamore dismantles the devices for recycling. Non-data-bearing devices are also sorted and sent to a variety of R2-certified processors.
The company sorted and processed about 3 million pounds of scrap electronics last year. The facility's scrap-processing capacity is 5 million pounds.
This article originally appeared in the Summer 2020 issue of E-Scrap News. Subscribe today for access to all print content.
Do you know of a processing company that should be featured in this column? Email [email protected]