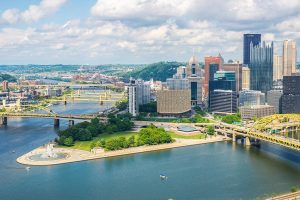 Communities that want to offer home pick-up of end-of-life electronics must overcome a number of challenges. Bureaucracy, it seems, is one of them.
The city of Pittsburgh had hoped to roll out an initiative in January that would allow residents to make an appointment to have electronics and hazardous materials collected at their homes. Residents would pay a $50 pick-up fee as well as processing costs for the service.
But the program, being offered in partnership with a company called Environmental Coordination Services and Recycling, Inc., has yet to launch. And a local official chalked the wait up to the winding ways of local government.
"It's just paperwork at this point that's been really delaying the process," Shawn Wigle of the Pittsburgh Bureau of Environmental Services told local NPR affiliate WESA. "Multiple people have to sign things and what not, and it's unfortunately taken a little bit longer than originally planned."
For now, local residents wanting to discard of used devices can continue to drop off material at a variety of local outlets. The Bureau of Environmental Services lists nine area businesses and organizations that accept end-of-life electronics.
Photo credit: FlorianKunde/Shutterstock

More stories about collection